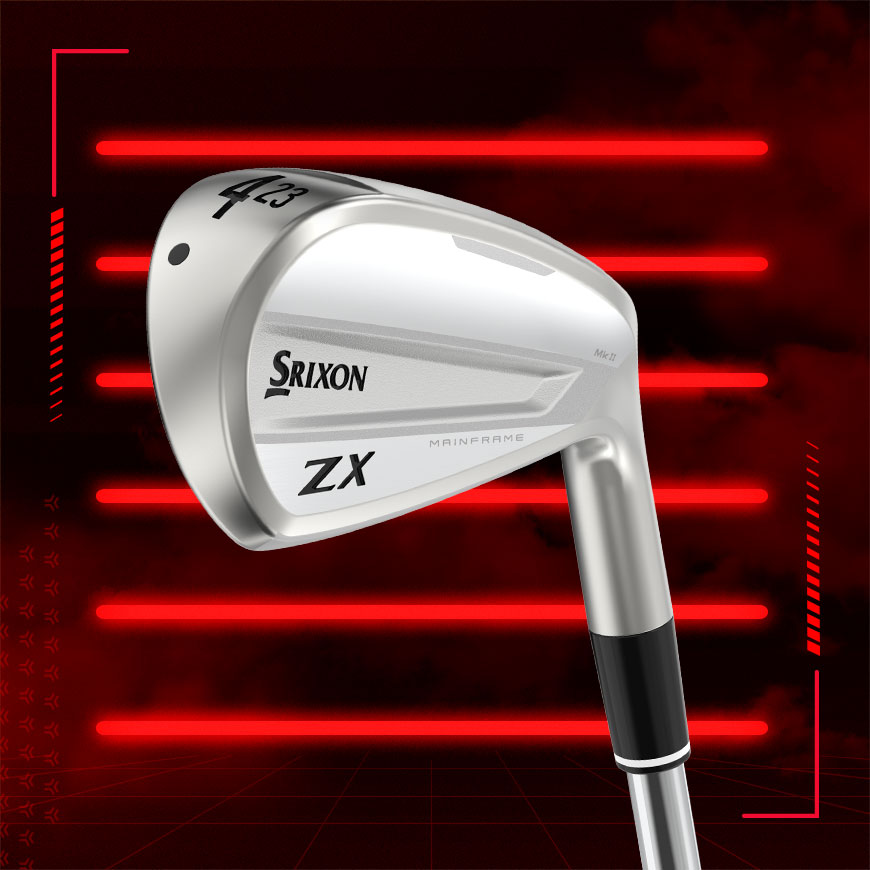 3.6 out of 5 Customer Rating
MAKE IT YOURS
Add Personalization
to Match Your Style
ZX Mk II Utility replacement long Irons offer every player—even tour pros—more long-game power, control, and forgiveness in a blade-like design with a hollow build. Their low Centers of Gravity and long-Iron forgiveness easily elevate your launch. Featuring a narrow topline, our widest soles, and minimal offset.

With this purchase, you're eligible to receive free Arccos Sensors and a free Arccos Caddie trial. For more details, click here.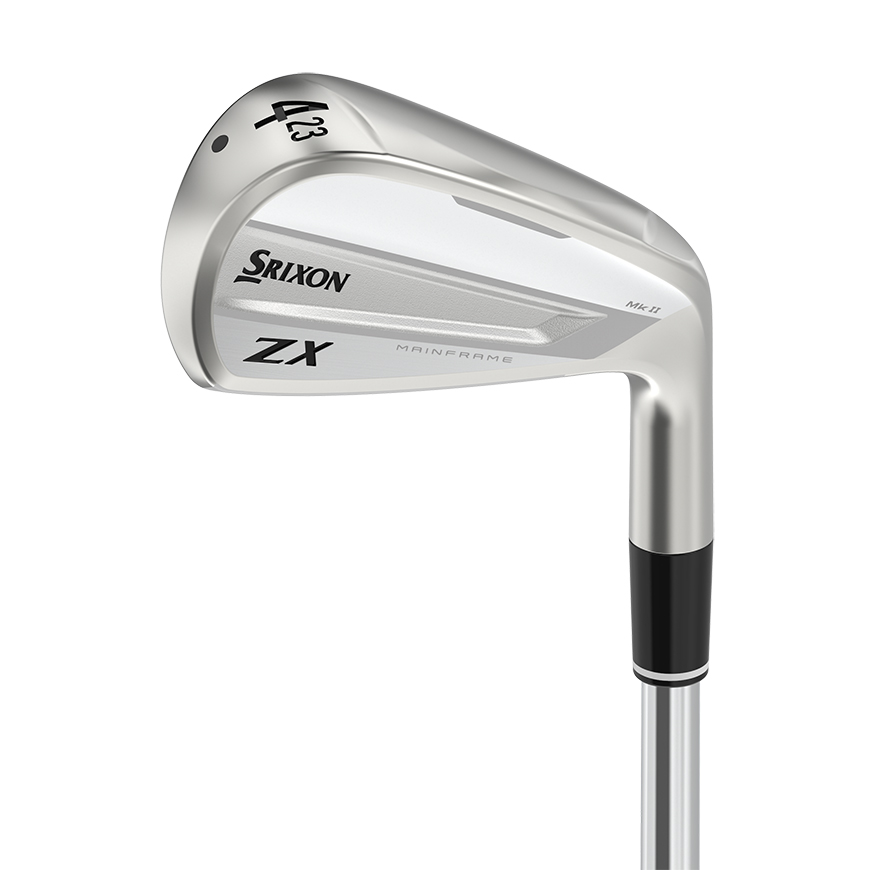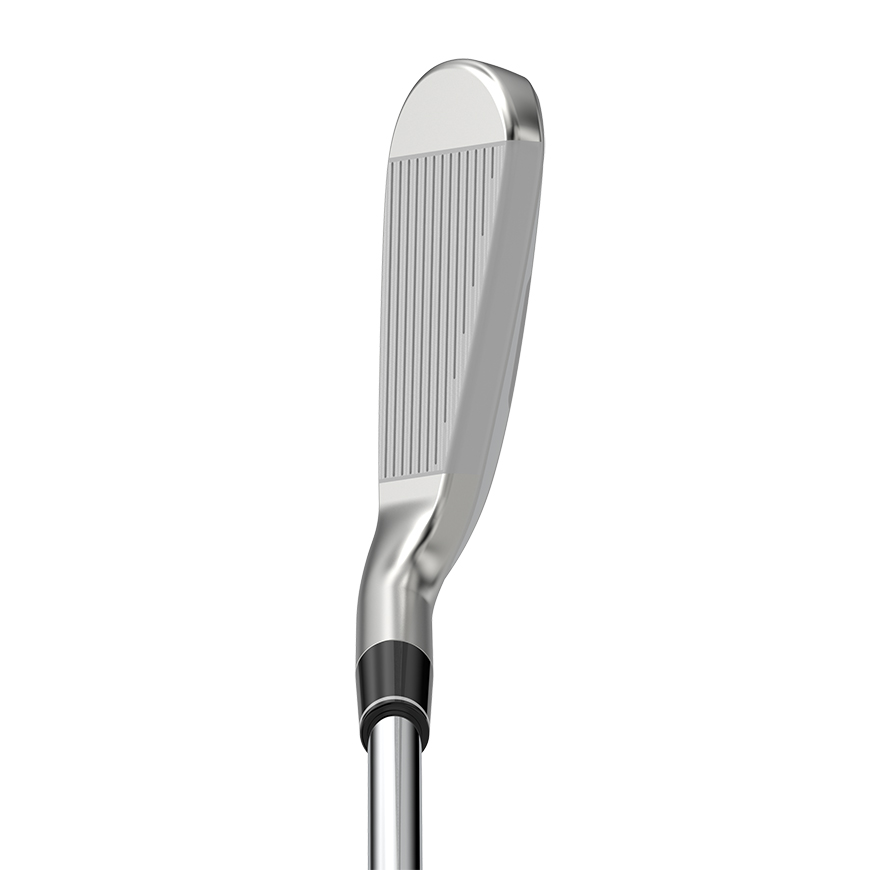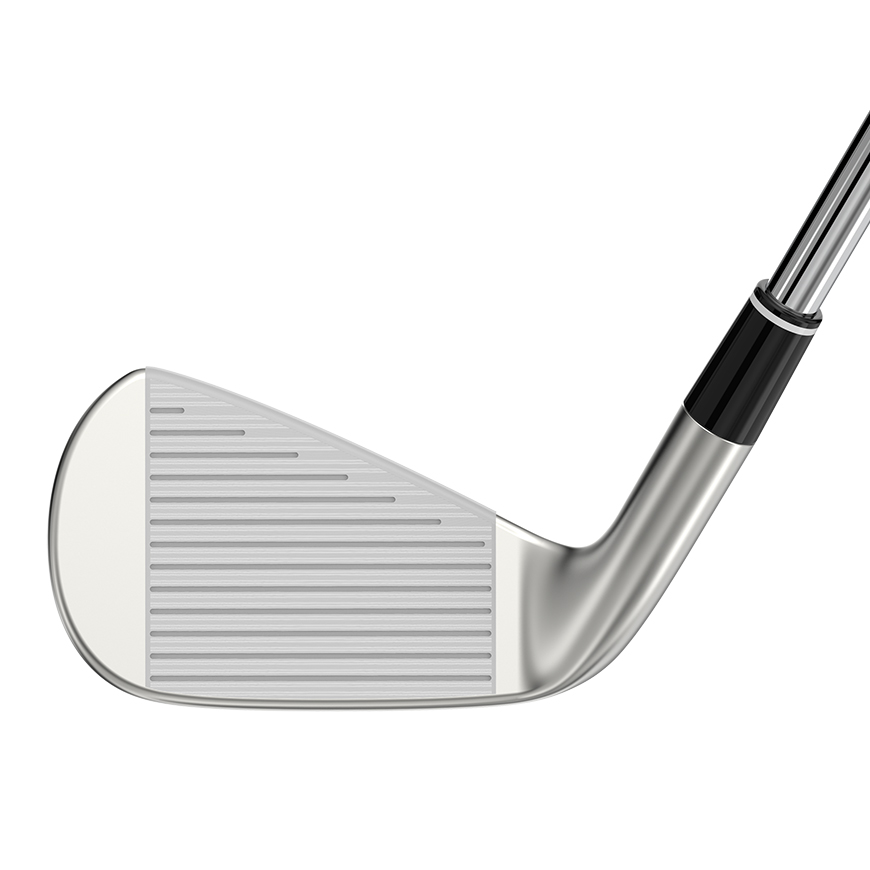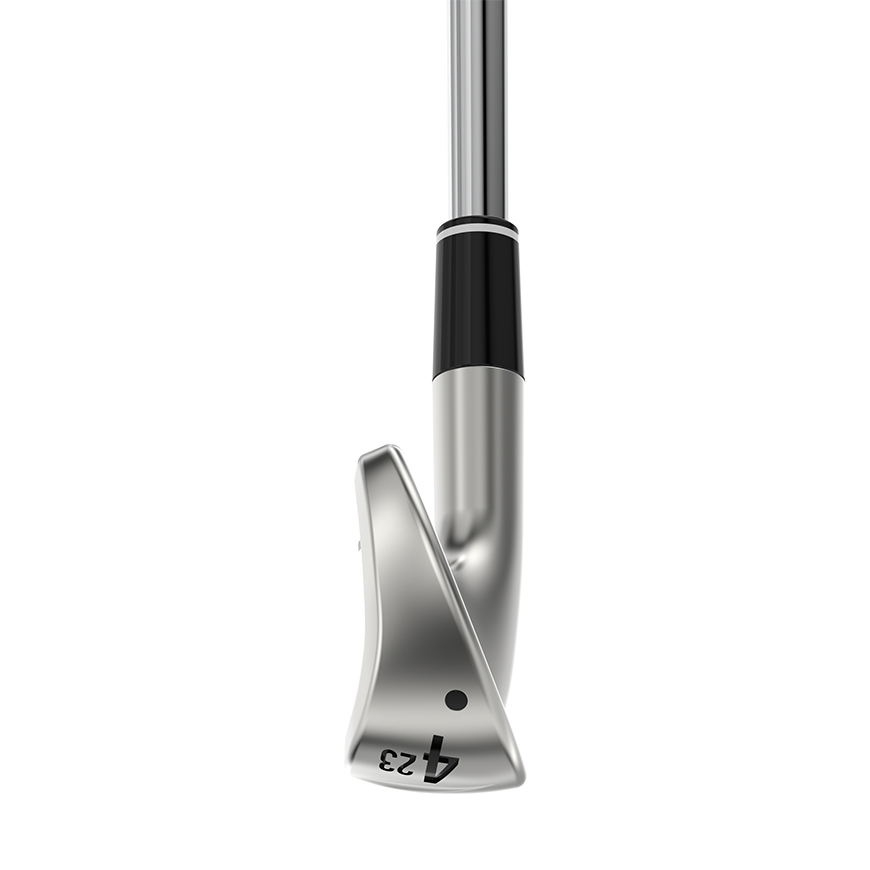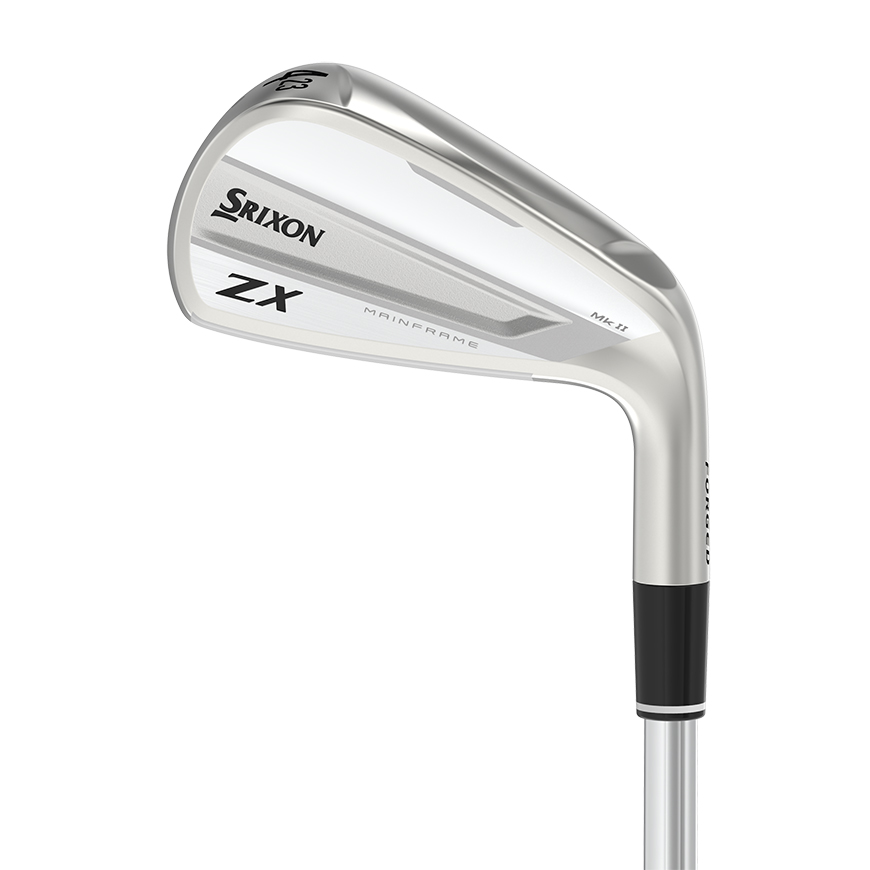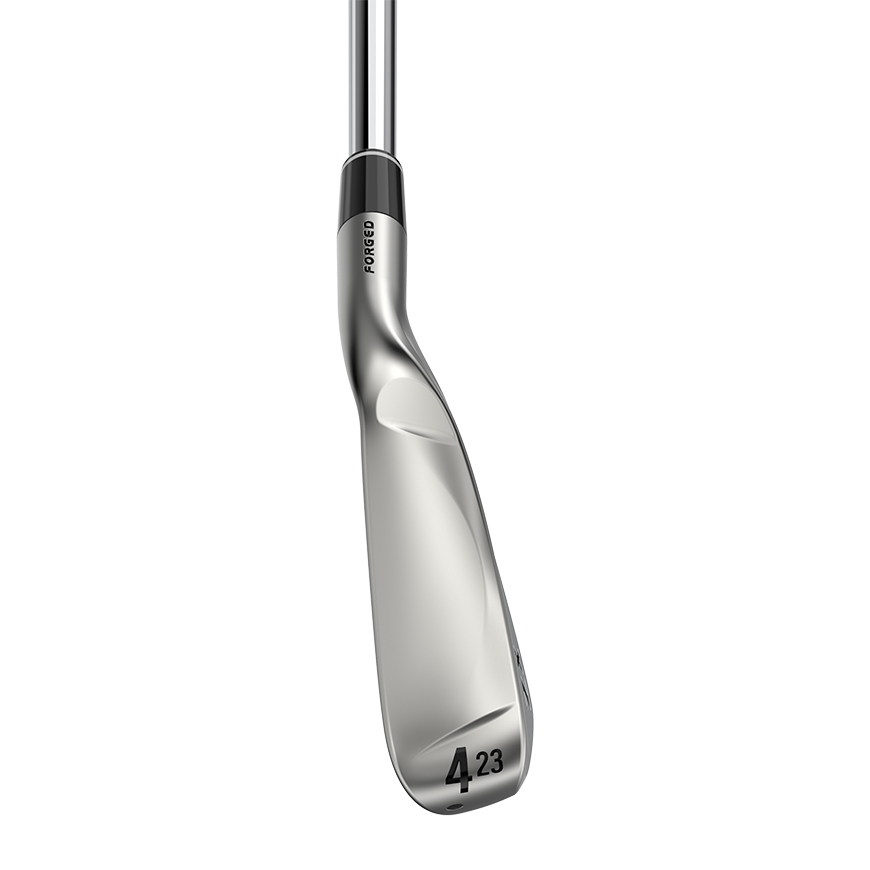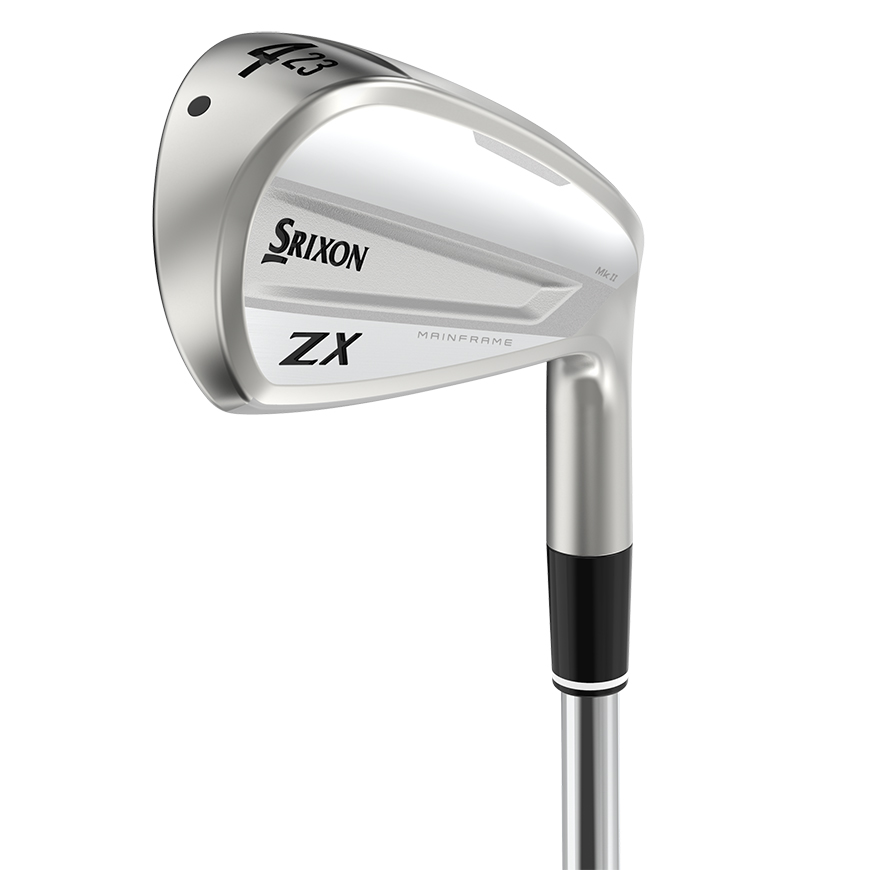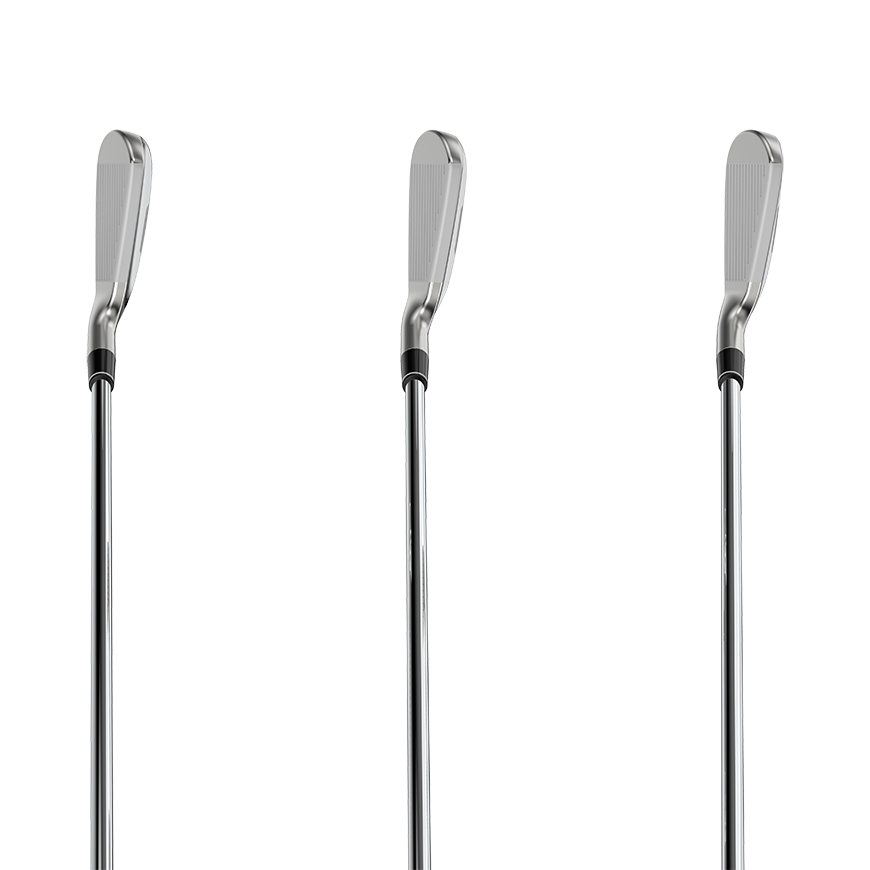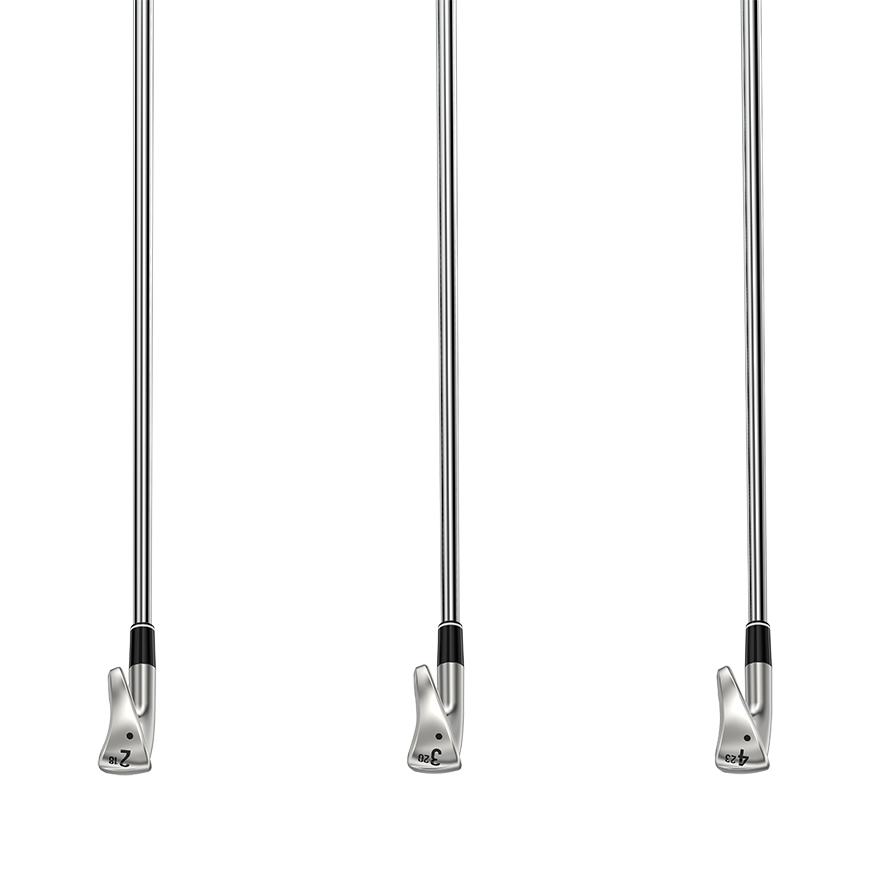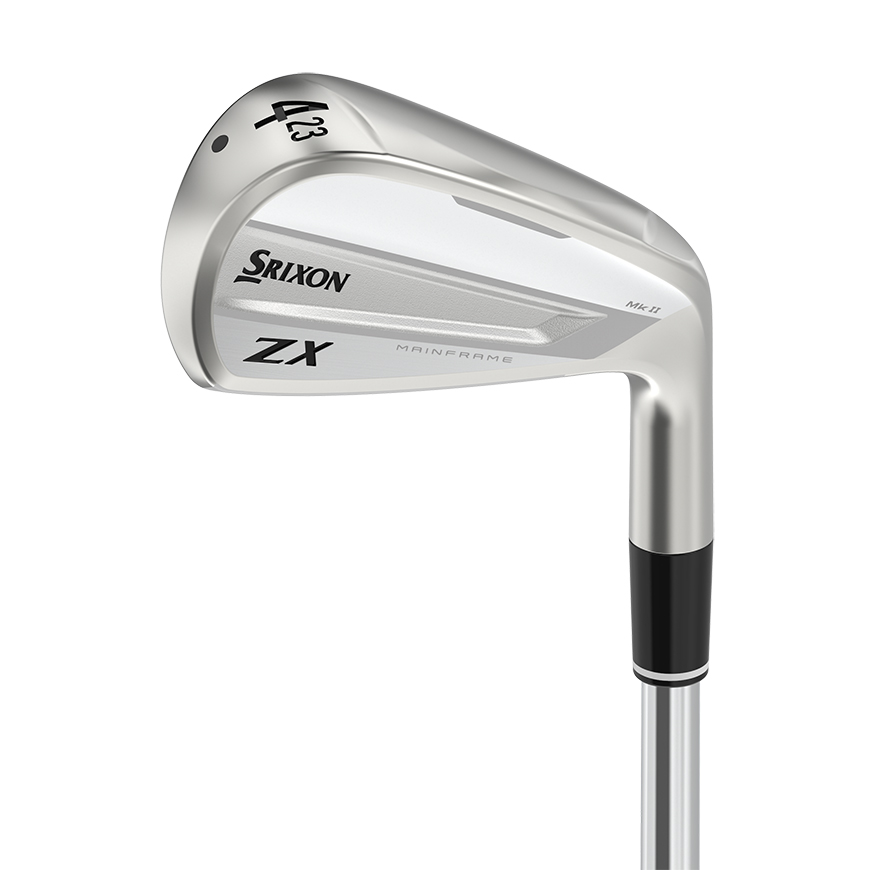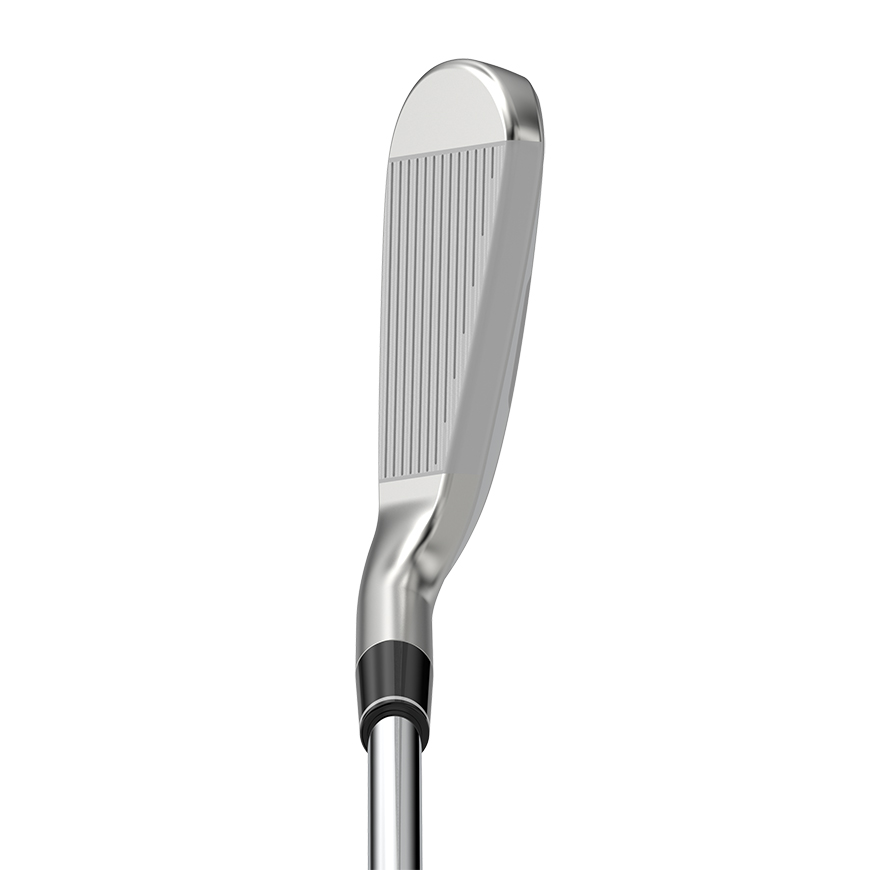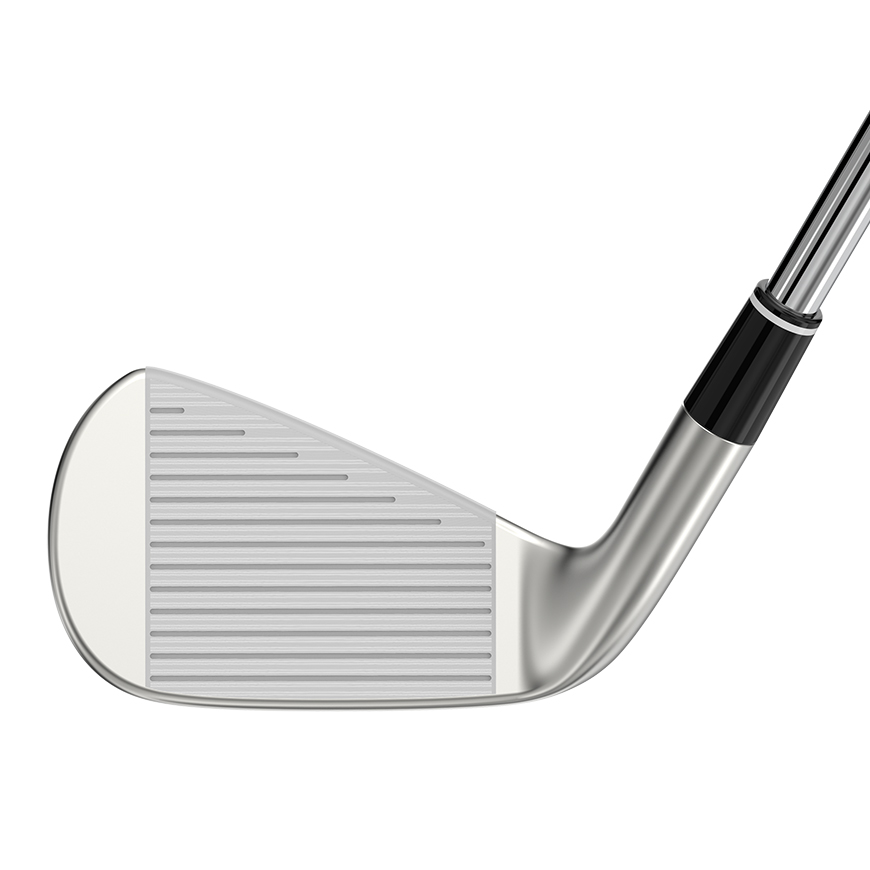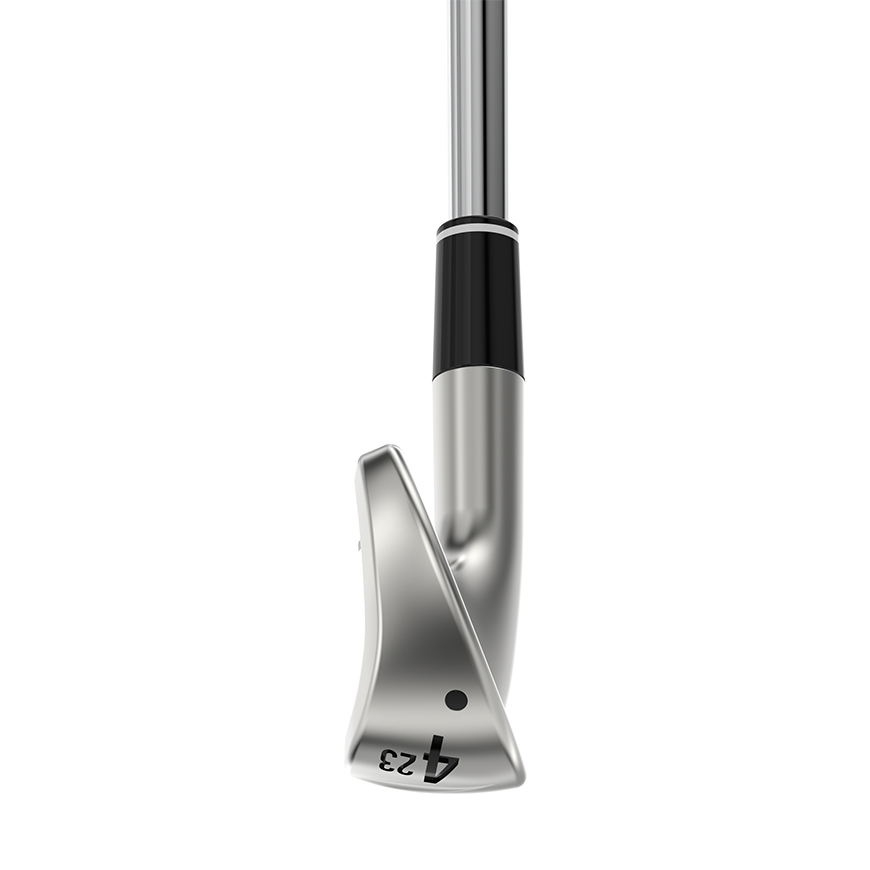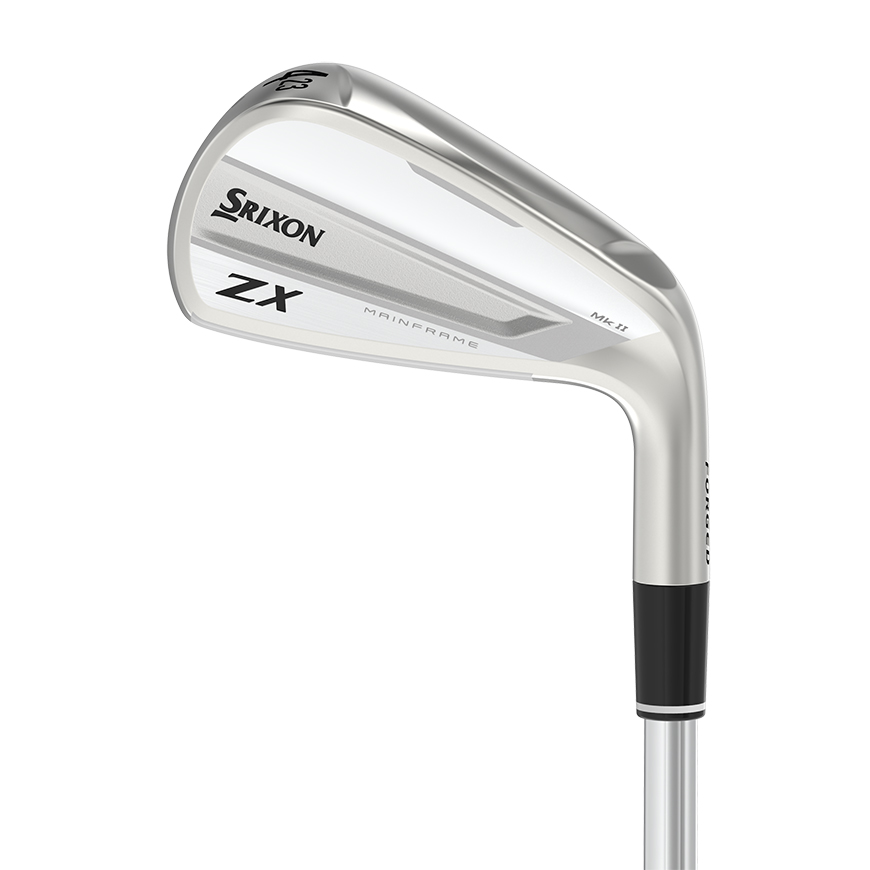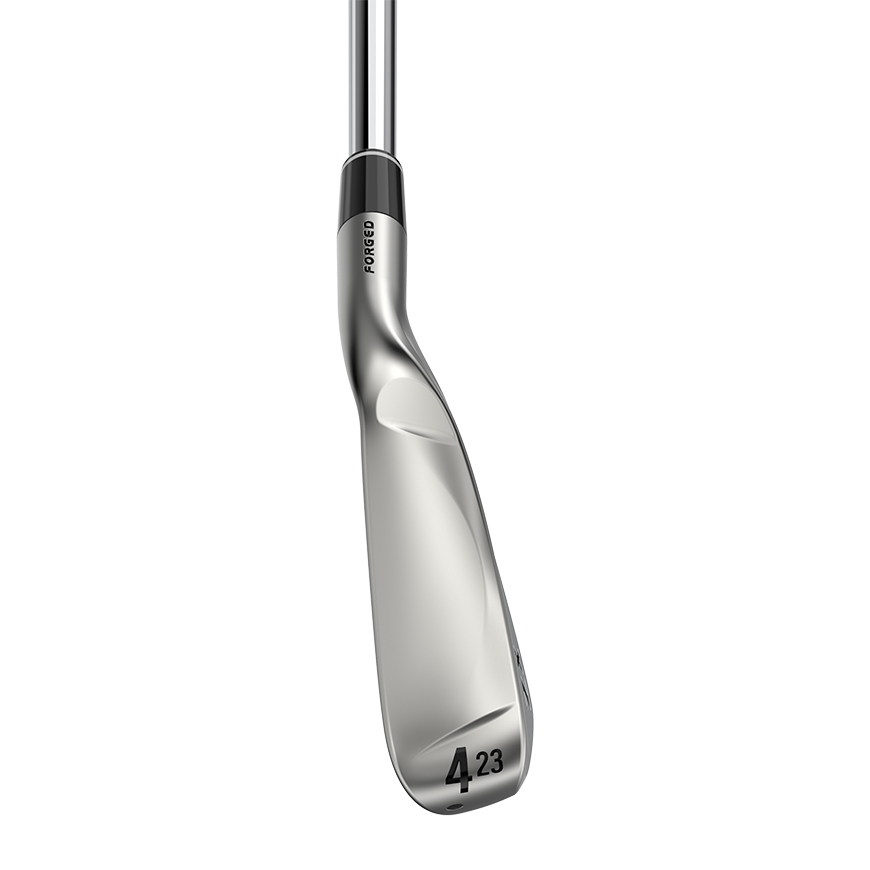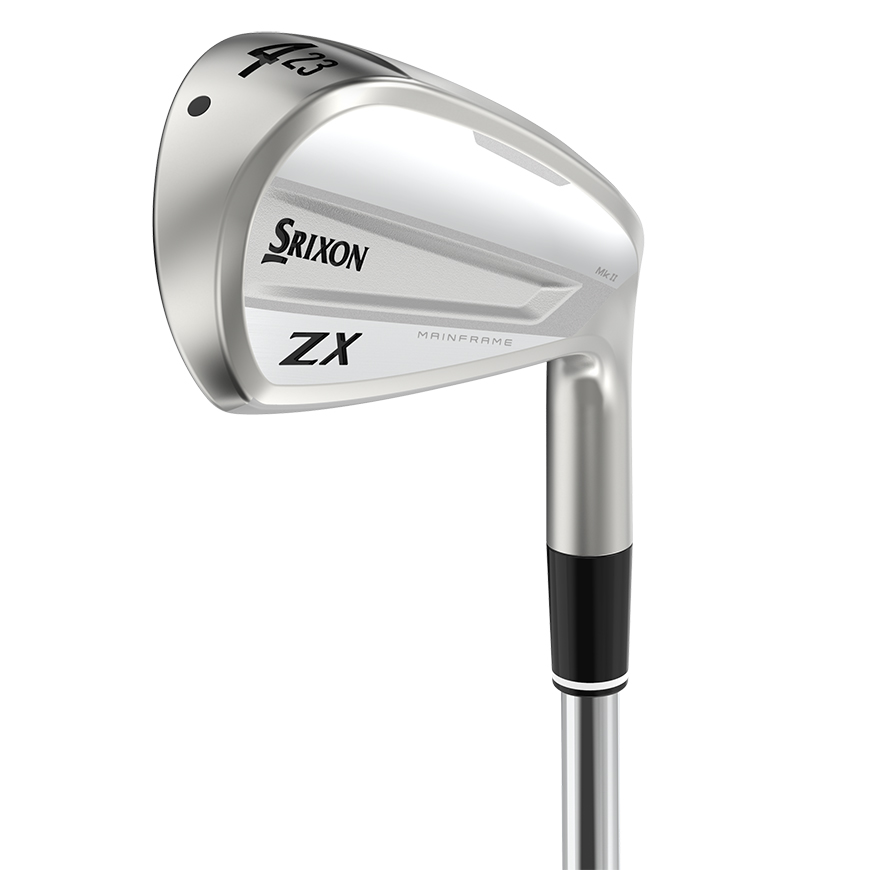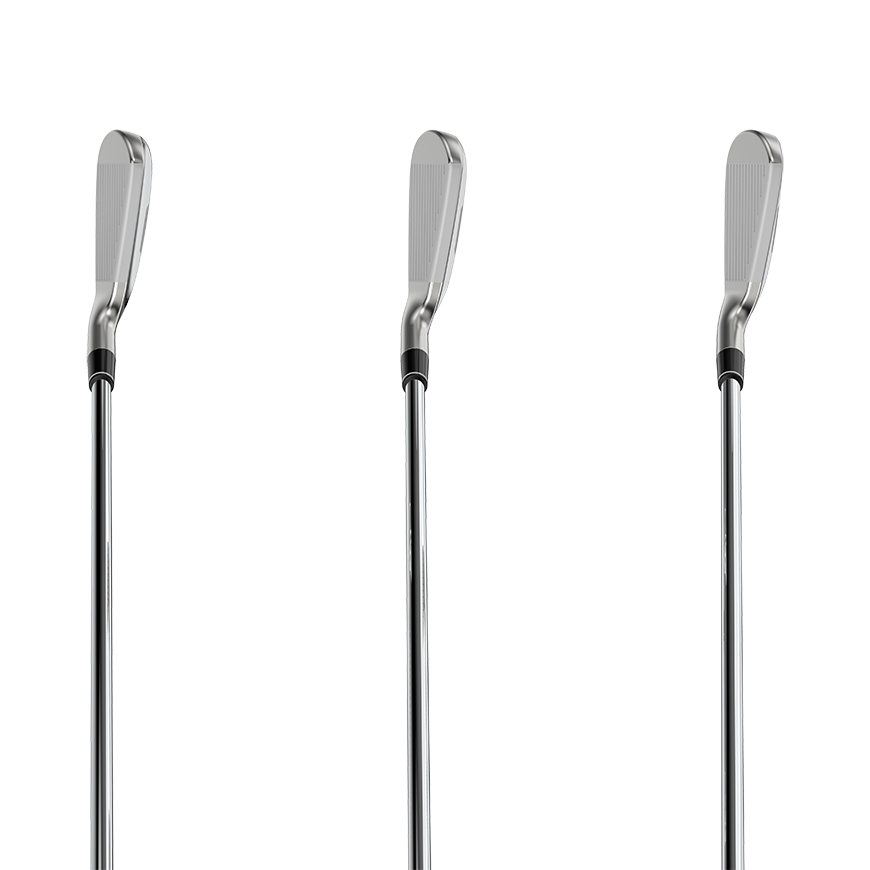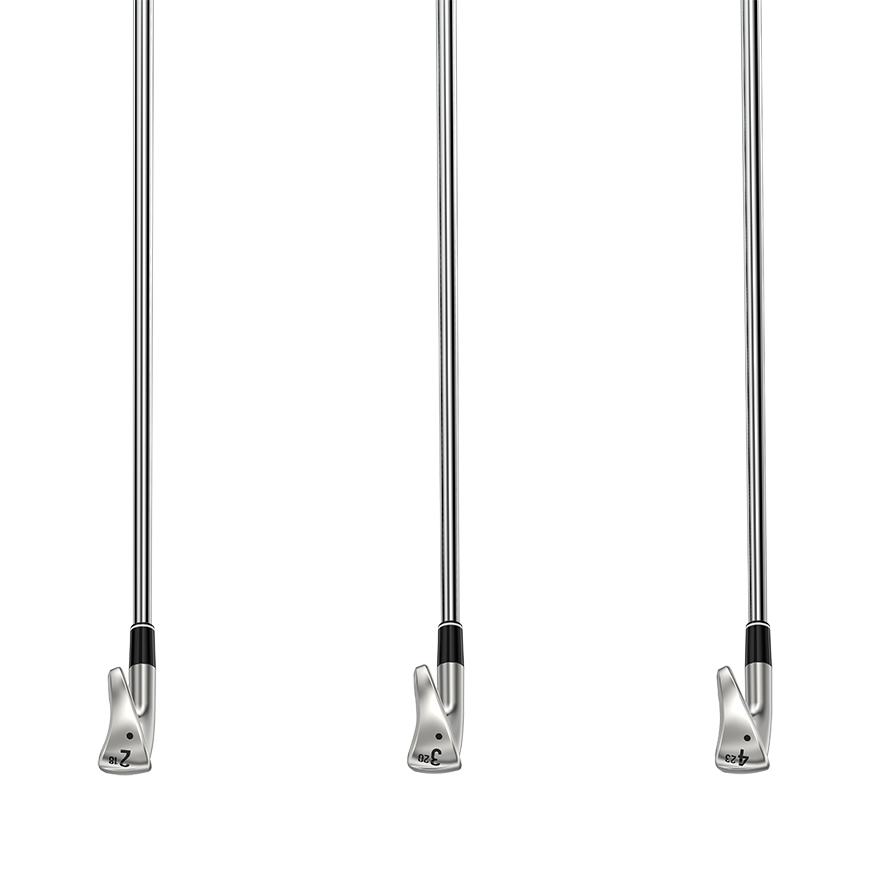 Overview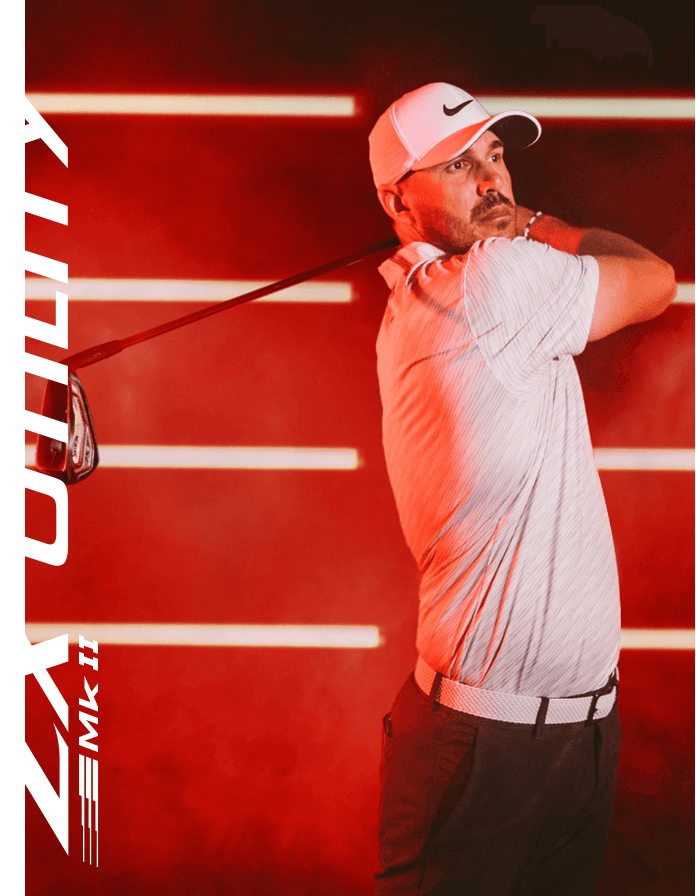 FAST AND
PURE
New ZX Mk II Irons are a culmination of fast and pure. A pure feeling at impact, for purer strikes, and a pure sound. With tech-driven ball speed in every number, energizing every shot.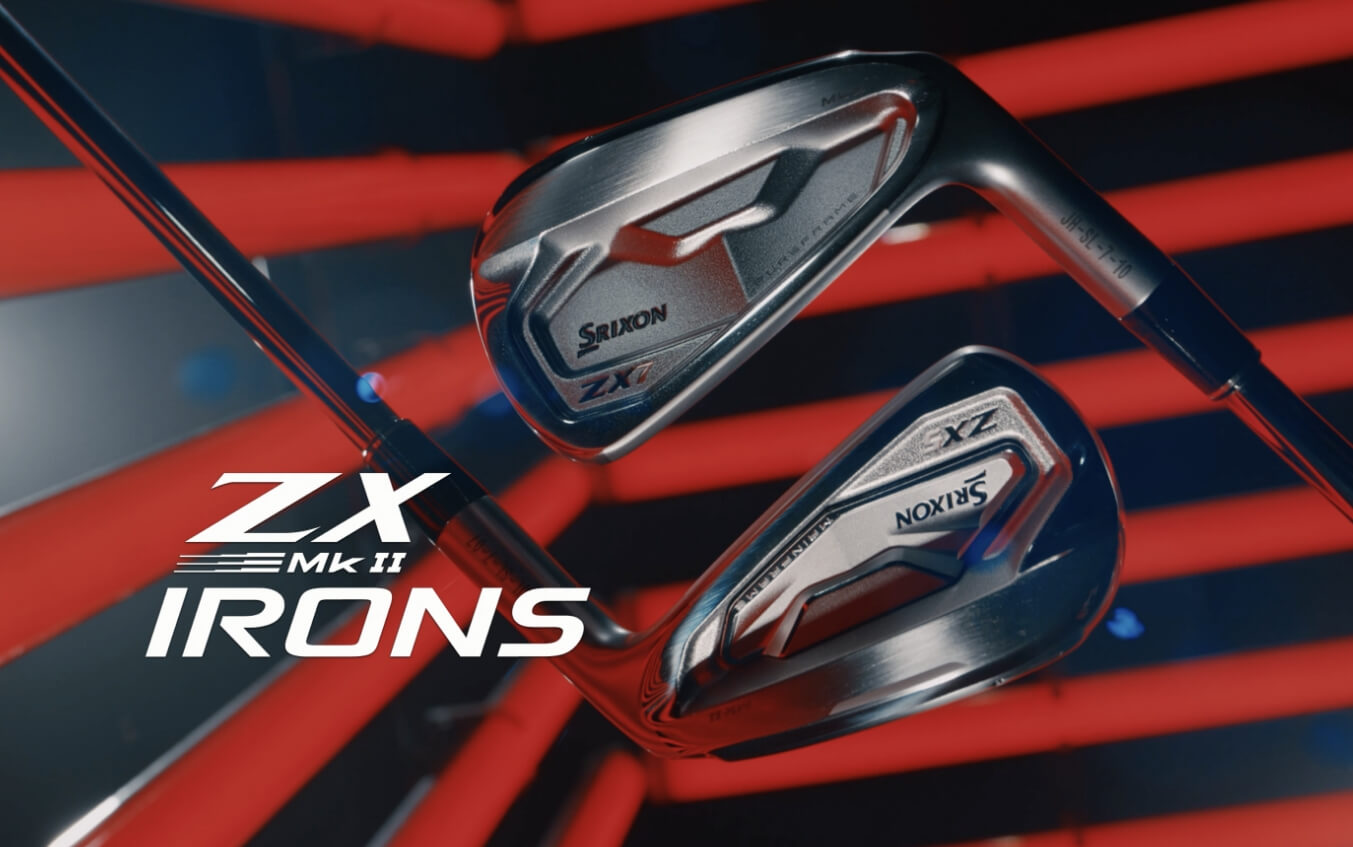 Technology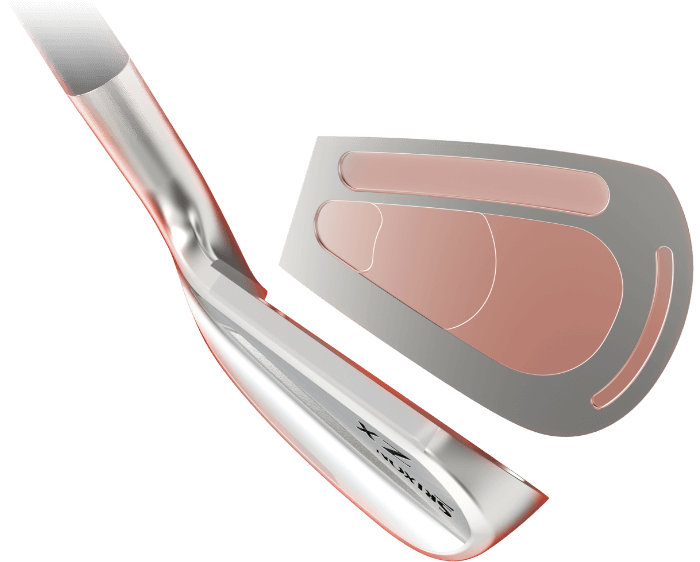 MAINFRAME
MainFrame is a variable thickness pattern of grooves, channels, and cavities carefully milled into the backside of ZX4 Mk II, ZX5 Mk II, and ZX Mk II Utility Iron faces that maximizes flex at impact. MainFrame not only boosts COR, it also repositions mass away from the face and into the toe and sole for a lower Center of Gravity. This creates more than just faster ball speed, but also more consistency and forgiveness, enhancing all aspects of your Iron play, shot for shot.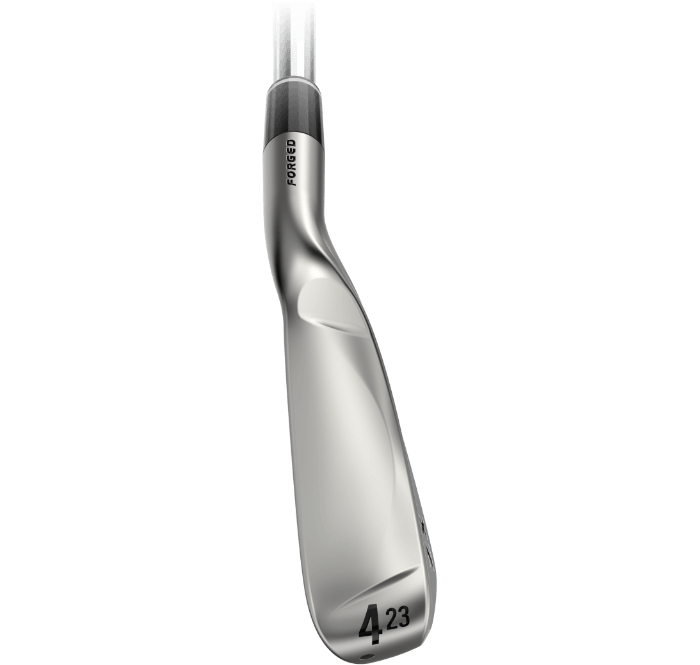 SOLE NOTCHES
Sole notches on the heel and toe sides lessen drag by reducing the amount of surface area that contacts the ground. Ultimately, they provide better clubhead speed through turf and improve shot versatility without sacrificing forgiveness.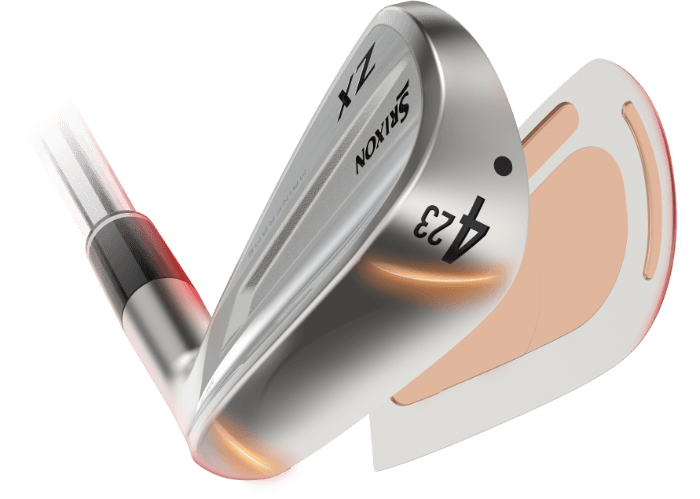 FORGED MULTI-PIECE CONSTRUCTION
ZX Mk II Utility's forged SUP10 faces are strong yet light—increasing face-flex at impact for enhanced speed and distance—while a forged 1020 Carbon Steel body absorbs vibrations for a softer feel.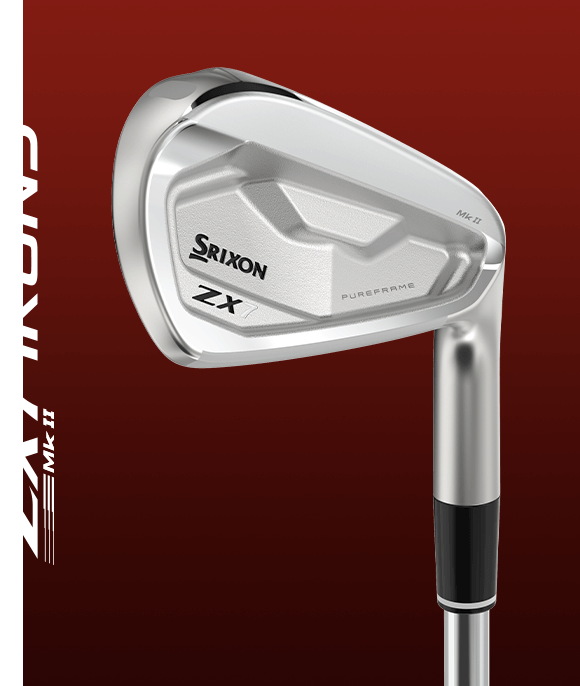 PLAYERS
WORKABILITY
A players Iron with tour-preferred looks and the pure feel of a forged blade, offering total control on every shot.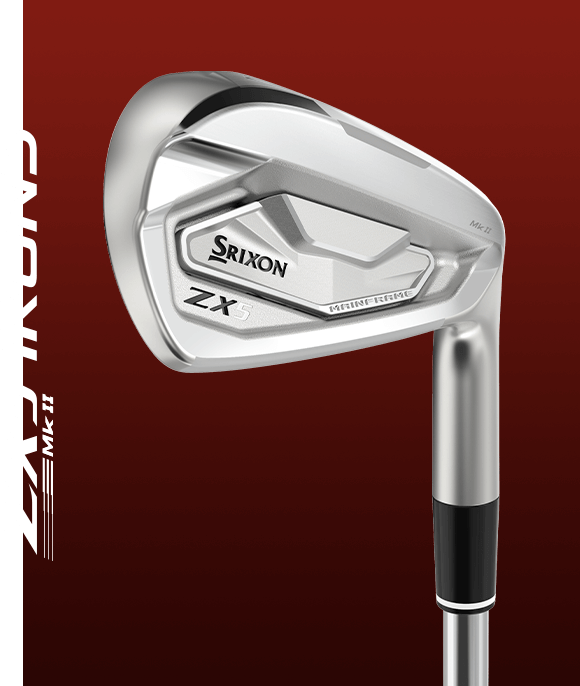 ENHANCED
DISTANCE
The perfect union of razor-sharp looks, power, and playability—combining premium forged feel with distance technology.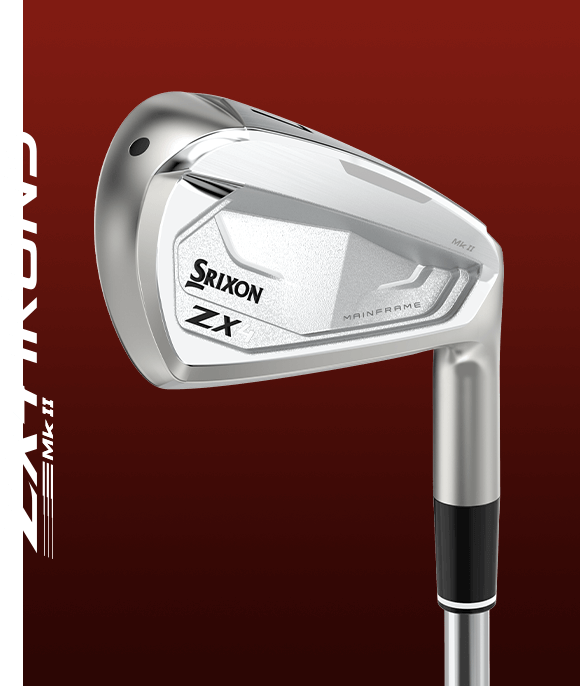 MAX
FORGIVENESS
Presents a sleek, narrow look at address, plus forged feel. But behind that clean aesthetic is hollow-Iron forgiveness.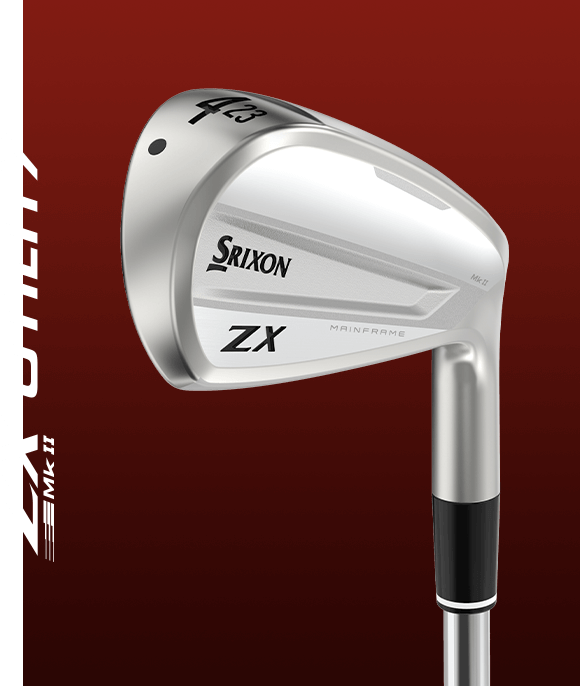 LONG-IRON
REPLACEMENT
A tour-proven long Iron alternative, featuring control and elevated launch in a forged, hollow design.
| | | | | |
| --- | --- | --- | --- | --- |
| Handicap | Low | Low-Mid | Mid-High | Low-Mid |
| Forgiveness | Low-Mid | Mid-High | High | High |
| Trajectory | Mid | Mid-High | Mid | High |
| Workability | High | Mid-High | Low-Mid | Mid |
| Distance | Mid | Mid-Long | Long | Long |
Specs
HEAD
LOFT
HAND
LIE
OFFSET
LENGTH

*

SWING WEIGHT
2
18°
RH/LH
60°
3.5mm
40"
D2
3
20°
RH/LH
60°
3.5mm
39.5"
D3
D2
4
23°
RH/LH
60.5°
3.5mm
39"
D4
D2
*Custom steel built 0.5" shorter.
UST MAMIYA RECOIL DART 90

UST Mamiya's Recoil Dart shafts now come standard as a graphite offering for ZX5 Mk II, ZX4 Mk II, and ZX Mk II Utility Irons. The new DART technology (Dual Action Recoil Technology) helps provide greater overall consistency, an optimal feel at impact, increased ball velocity, and precise ball flight for all golfers.
| FLEX | WEIGHT | TORQUE | TIP DIAMETER | BUTT DIAMETER | LAUNCH | SPIN |
| --- | --- | --- | --- | --- | --- | --- |
| X (F5) | 90g | 2.5° | .355" | .600" | Mid | Mid |
| S (F4) | 90g | 2.5° | .355" | .600" | Mid | Mid |
| R (F3) | 90g | 2.6° | .355" | .600" | Mid | Mid |
| TIP DIAMETER | WEIGHT (g) | LAUNCH | FLEX |
| --- | --- | --- | --- |
| 0.355" | 90g | Mid | F3-R, F4-S, F5-X |
NIPPON NEO 950

| TIP DIAMETER | WEIGHT (g) | LAUNCH | FLEX |
| --- | --- | --- | --- |
| 0.355" | 94.5g - 104.0g | Mid | R, S, X |
GOLF PRIDE TOUR VELVET 360

The #1 choice of the world's best for years, Golf Pride Tour Velvet 360 Grips are stock for each ZX Iron. The 360 variant has less intrusive logos, a state-of-the-art rubber-blend compound, and a nonslip surface pattern for maximum playability.
| SIZE | CORE | WEIGHT |
| --- | --- | --- |
| Standard | .580" | 52g |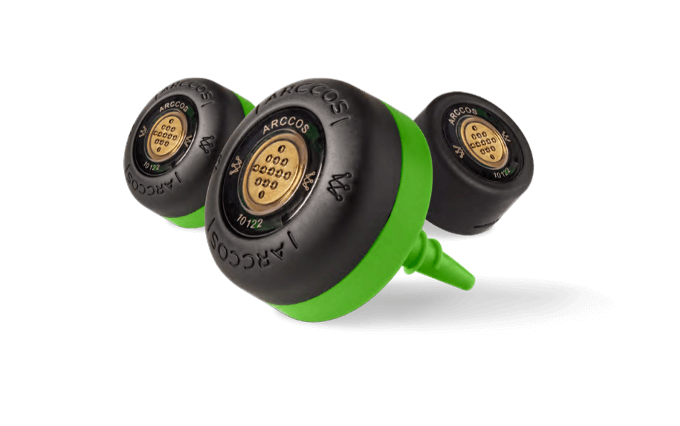 RECEIVE FREE ARCCOS SENSORS AND ARCCOS CADDIE TRIAL
Tracking your data leads to better decisions and lower scores. That's why we've partnered with Arccos, the game's most complete on-course tracking system that helps you play smarter and improve faster.
Purchasing this club gives you free access to Arccos Smart Sensors and Caddie. Look in your Email inbox following your purchase for details on how to redeem.
CUSTOM SHAFTS
CUSTOMIZE WITH WORLD-CLASS SHAFTS
To play like the best, you need gear built with the best components available. Upgrade your new ZX Mk II Irons with one of the many premium shafts available in our extensive catalog. Match your swing to the weight, feel and flex that'll maximize your distance and accuracy across the course. Click "Custom Build" above to explore all your options.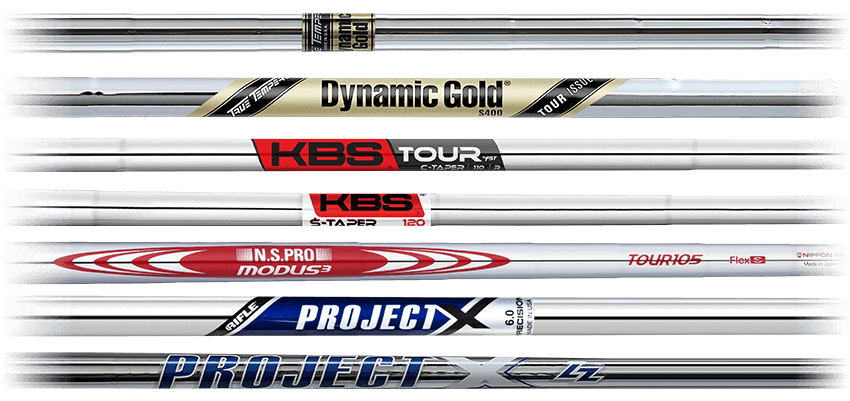 Additional options available. Inventory may vary.
CUSTOM GRIPS
UPGRADE TO YOUR FAVORITE GRIP
A bevy of custom grip choices ensures you have the freedom to personalize your Irons down to the smallest detail, usually at no additional cost. Cord, non-cord, standard and jumbo sizes are all available in our extensive custom grips catalog. Click "Custom Build" above to explore all your options.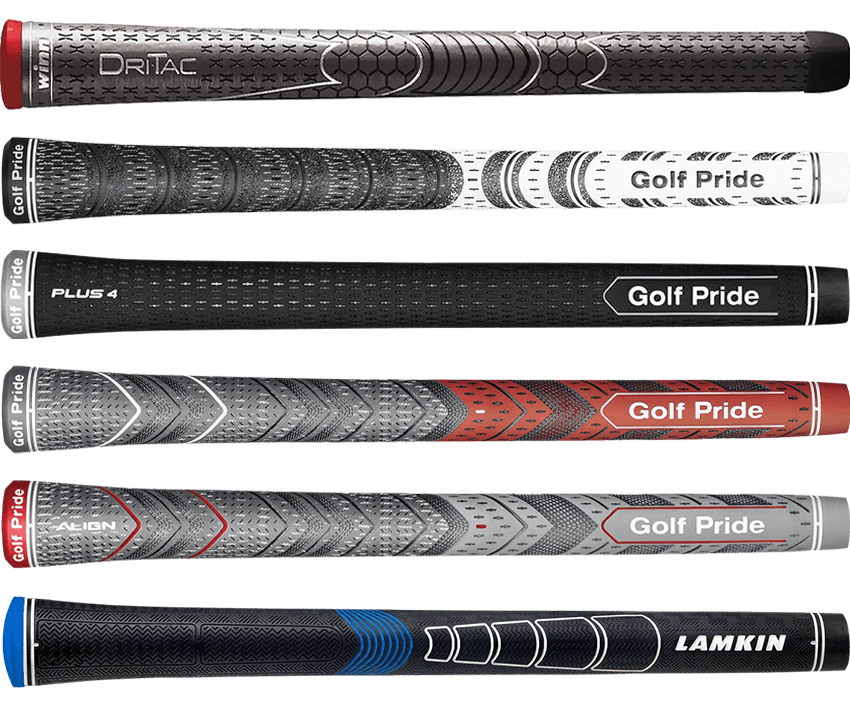 Additional options available. Inventory may vary.
CUSTOM BUILD OPTIONS
LENGTH ADJUSTMENT*
(Increments of 1/4")
LIE ADJUSTMENT
(Increments of 1°)
LOFT ADJUSTMENT
(Increments of 1°)
SHAFT STEPPING
GRIP AND WRAPS
-2" to +2"
-3° to +3°
-2° to +2°
• Hard Step
• Soft Step
• 1 to 3 Wraps
• 1 to 3 Extra Lower Wraps
• Grip Upside Down
• Grip Upside Down + 1 to 3 Wraps
• Uninstalled / In Box
-2° to +2°
-1" to +1"
*Any 1/2" overlength custom order on right handed ZX7 Mk II Irons, ZX5 Mk II Irons, or ZX4 Mk II Irons is built with a 2–4g lighter clubhead.
CUSTOM PAINTFILL
A brand-new, customizable option available for Srixon ZX Mk II, now you can personalize any Iron set and Utility Irons. Choose from 20 paintfill colors and three Color Group areas.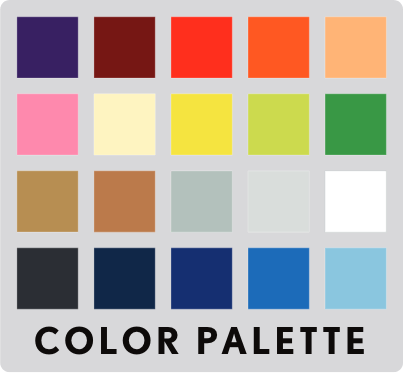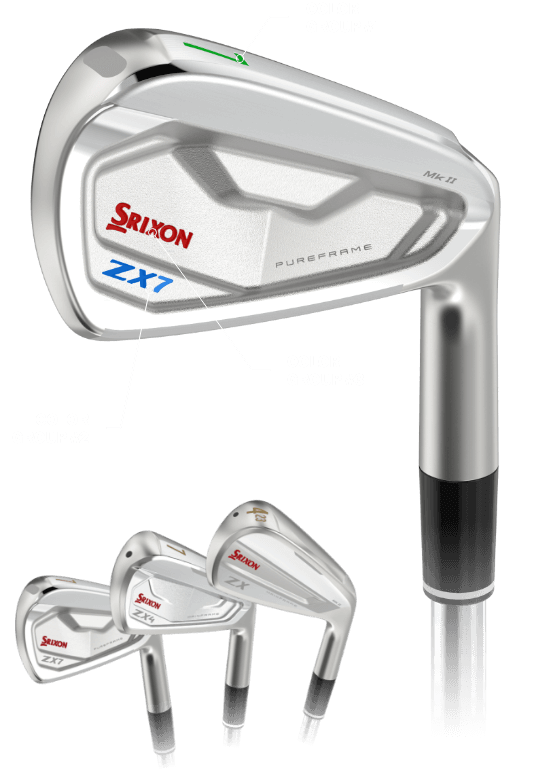 COMPARE IRON SHAPE
SHAPE CHANGES FOR ZX MK II IRONS VERSUS LAST GENERATION:
All toplines are now the same thickness
ZX4 has thinner soles and longer blade lengths
ZX5 has thinner soles
ZX Utility has wider soles
Tour-level and low-handicap players prefer the thin topline, narrow sole, short blade, and minimal offset.

A wider sole with moderate blade length and offset provide both distance and forgiveness.

Moderate sole width, longest blade length, and highest offset. Our strongest lofts promote a piercing launch with enhanced distance and rollout.

Our widest soles, combined with minimal offset, make these forgiving long Irons professional favorites.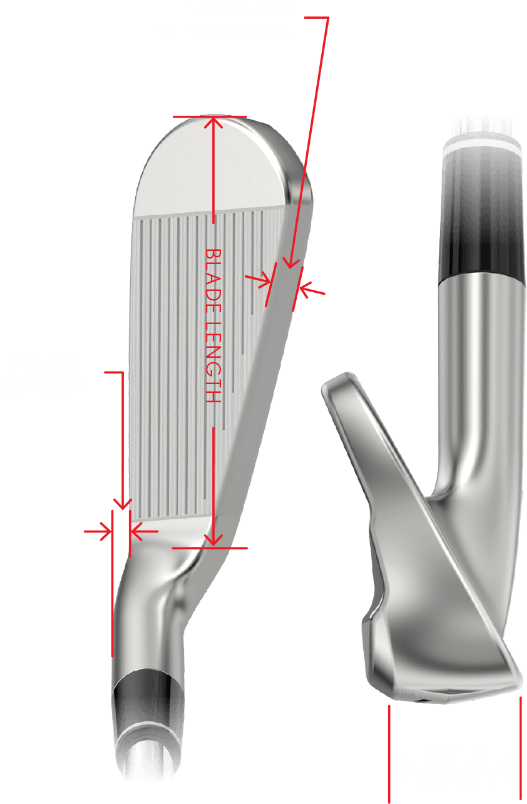 IRON
4i
7i
PW
BLADE LENGTH (mm)
ZX7
76.5
77.2
77.7
ZX5
78
78.5
78.6
ZX4
80.6
80.9
80.9
ZX UTILITY
79.2
TOPLINE THICKNESS (mm)
ZX7
6.0
6.0
6.0
ZX5
6.0
6.0
6.0
ZX4
6.0
6.0
6.0
ZX UTILITY
6.0
HOSEL OFFSET (mm)
ZX7
3.3
2.8
1.7
ZX5
4.0
3.2
2.3
ZX4
4.3
3.4
2.6
ZX UTILITY
3.5
SOLE WIDTH (mm)
ZX7
15.1
15.1
15.5
ZX5
17.6
17.6
19.4
ZX4
20.0
20.7
22.3
ZX UTILITY
22.5
Loft Comparsion
Head
2
3
4
5
6
7
8
9
PW
AW
ZX7 Mk II Irons
-
20°
22°
25°
28°
32°
36°
41°
46°
51°
ZX5 Mk II Irons
-
20°
22°
24°
27°
31°
35°
39°
44°
50°
ZX4 Mk II Irons
-
-
21°
23°
25.5°
28.5°
33°
38°
43°
49°
ZX Mk II Utility
18°
20°
23°
-
-
-
-
-
-
-
Length Comparsion
Irons
39"
38.5"
38"
37.5"
37"
36.5"
36"
35.5"
35.5"
Utility Graphite
40"
39.5"
39"
-
-
-
-
-
-
-
Utility Steel (Custom)
39.5"
39"
38.5"
-
-
-
-
-
-
-
Hand
Please select an available option
Loft
Please select an available option
Shaft Flex
Please select an available option
Hand
Please select an available option
Club Set
Please select an available option
lie
Please select an available option
Loft Adjustment
Please select an available option
Shaft Type
Please select an available option
Shaft Model
Please select an available option
STEEL - KBS - Tour - Mid Launch

STEEL - KBS - C-Taper - Low Launch

STEEL - KBS - C-Taper Lite - Mid-High Launch

STEEL - KBS - S Taper Chrome - Mid Launch

STEEL - KBS-EXOTIC - Tour-V - Mid Launch (+$15/Club ~3wk Lead Time)

STEEL - KBS-EXOTIC - Tour FLT - Mid Launch (+$15/Club ~3wk Lead Time)

STEEL - Nippon - NS Pro Modus3 Tour 120 - Mid-Low Launch

STEEL - Nippon - NS Pro Modus3 Tour 105 - Mid Launch

STEEL - Project X - Project X - Low Launch

STEEL - Project X - LZ - Mid Launch
STEEL - True Temper - Dynamic Gold - Low Launch

STEEL - True Temper - Dynamic Gold Tour Issue - Low Launch (+$25/Club)

GRAPHITE - Standard - UST - Recoil Dart 90 - Mid Launch

GRAPHITE - Aerotech - SteelFiber i95cw - Low-Mid Launch (+$35.75 to Gr Price/Club)

GRAPHITE - Aerotech - SteelFiber i70cw - Mid-High Launch (+$35.75 to Gr Price/Club)

GRAPHITE - Aerotech-EXOTIC - SteelFiber i80cw - Mid Launch (+$35.75 to Gr Price/Club ~3wk Lead Time)

GRAPHITE - Aerotech-EXOTIC - SteelFiber fc90cw - Progressive Launch (+$35.75 to Gr Price/Club ~3wk Lead Time)

GRAPHITE - Aerotech-EXOTIC - SteelFiber i110cw - Low-Mid Launch (+$35.75 to Gr Price/Club ~3wk Lead Time)

GRAPHITE - Graphite Design-EXOTIC - Tour AD 95 Driving Iron(Orange) - Mid Launch (+$75 to Gr Price/Club ~3wk Lead Time)

GRAPHITE - Graphite Design-EXOTIC - Tour AD 85 Driving Iron(Orange) - Mid Launch (+$75 to Gr Price/Club ~3wk Lead Time)

GRAPHITE - KBS - MAX 65 - High Launch (+$25 to Gr Price/Club)

GRAPHITE - KBS - MAX 55 - High Launch (+$25 to Gr Price/Club)

GRAPHITE - KBS - MAX 45 - High Launch (+$25 to Gr Price/Club)

GRAPHITE - KBS-EXOTIC - TGI 100 - Mid Launch (+$25 to Gr Price/Club ~3wk Lead Time)

GRAPHITE - KBS-EXOTIC - TGI 95 - Mid Launch (+$25 to Gr Price/Club ~3wk Lead Time)

GRAPHITE - KBS-EXOTIC - TGI 90 - Mid Launch (+$25 to Gr Price/Club ~3wk Lead Time)

GRAPHITE - Nippon - NS Pro Modus3 GOST Uti - Mid Launch (+$75 to Gr Price/Club)

GRAPHITE - UST - Recoil Dart 65 - Mid-High Launch

GRAPHITE - UST - Recoil Dart 75 - Mid-High Launch
Unavailable as configured

GRAPHITE - UST - Recoil 95 - Mid Launch

GRAPHITE - UST - Recoil 760/780 ES SWP Ion Plated - Mid-High Launch
Unavailable as configured

GRAPHITE - UST - Recoil 760 SWP Black - Mid-High Launch
Unavailable as configured
Shaft Flex
Please select an available option
X-Stiff - 95g EXOTIC ~3Wk Lead Time
Regular - 95g EXOTIC ~3Wk Lead Time
Stiff - 70g EXOTIC ~3Wk Lead Time
Stiff - 120g EXOTIC ~3Wk Lead Time
X-Stiff - 115g EXOTIC ~3Wk Lead Time
X-Stiff (7.0) - 130g EXOTIC ~3Wk Lead Time
Regular (5.5) - 115g EXOTIC ~3Wk Lead Time
Senior (5.0) - 110g EXOTIC ~3Wk Lead Time
X-Stiff (F5) - 91g EXOTIC ~3Wk Lead Time
X-Stiff (F5) - 90g EXOTIC ~3Wk Lead Time
Shaft Length
Please select an available option
Stepping Option
Please select an available option
Grip Model
Please select an available option
Standard - Golf Pride - Tour Velvet 360 - .580 [52g]

Golf Pride - Tour Velvet - .580 [52g]

Golf Pride - Tour Velvet - .600 [53g] - Midsize

Golf Pride - Tour Velvet - .600 [61g] - Jumbo

Golf Pride - MCC Black - .600 [46.5g]

Golf Pride - MCC Black - .600 [59g] - Midsize

Golf Pride - MCC Red - .600 [46.5g]

Golf Pride - MCC Red - .600 [59g] - Midsize

Golf Pride - MCC Blue - .600 [46.5g]

Golf Pride - MCC Blue - .600 [59g] - Midsize

Golf Pride - MCC White - .600 [46.5g]

Golf Pride - MCC White - .600 [59g] - Midsize

Golf Pride - Tour Velvet Plus4 - .600 [52g] (+$10)

Golf Pride - Tour Velvet Plus4 - .600 [65.5g] - Midsize (+$10)

Golf Pride - Tour Velvet ALIGN - .600 Reminder [51.5g] (+$10)

Golf Pride - Tour Velvet ALIGN - .600 Reminder [64g] - Midsize (+$10)

Golf Pride - Tour Velvet Full Cord - .580 [50.5g] (+$10)

Golf Pride - MCC Plus4 Align - .600 Reminder [53g] (+$10)

Golf Pride - MCC Plus4 Align - .600 Reminder [67g] - Midsize (+$10)

Golf Pride - MCC Plus4 Gray - .600 [52g] (+$10)

Golf Pride - MCC Plus4 Gray - .600 [66g] - Midsize (+$10)

Golf Pride - MCC Plus4 Gray - .600 [82g] - Jumbo (+$10)

Golf Pride - MCC Plus4 Blue - .600 [52g] (+$10)

Golf Pride - MCC Plus4 Blue - .600 [66g] - Midsize (+$10)

Golf Pride - MCC Plus4 Red - .600 [52g] (+$10)

Golf Pride - MCC ALIGN - .600 Reminder [51g] (+$10)

Golf Pride - MCC ALIGN - .600 Reminder [62g] - Midsize (+$10)

Golf Pride - Z Cord - .600 [50.5g] (+$10)

Golf Pride - Z Cord - .600 [57.5g] - Midsize (+$10)

Golf Pride - CP2 Wrap - .600 [51.5g] (+$10)

Golf Pride - CP2 Wrap - .600 [64g] - Midsize (+$10)
Golf Pride - CP2 Wrap - .600 [81g] - Jumbo (+$10)

Golf Pride - 2G Tour Wrap Black - .600 [48g] (+$10)

Golf Pride - 2G Tour Wrap Black - .600 [58g] - Midsize (+$10)

Golf Pride - 2G Tour Wrap Red - .600 [48g] (+$10)

Golf Pride - 2G Tour Wrap White - .600 [48g] (+$10)

Golf Pride - CP2 Pro - .600 [51.5g] (+$10)