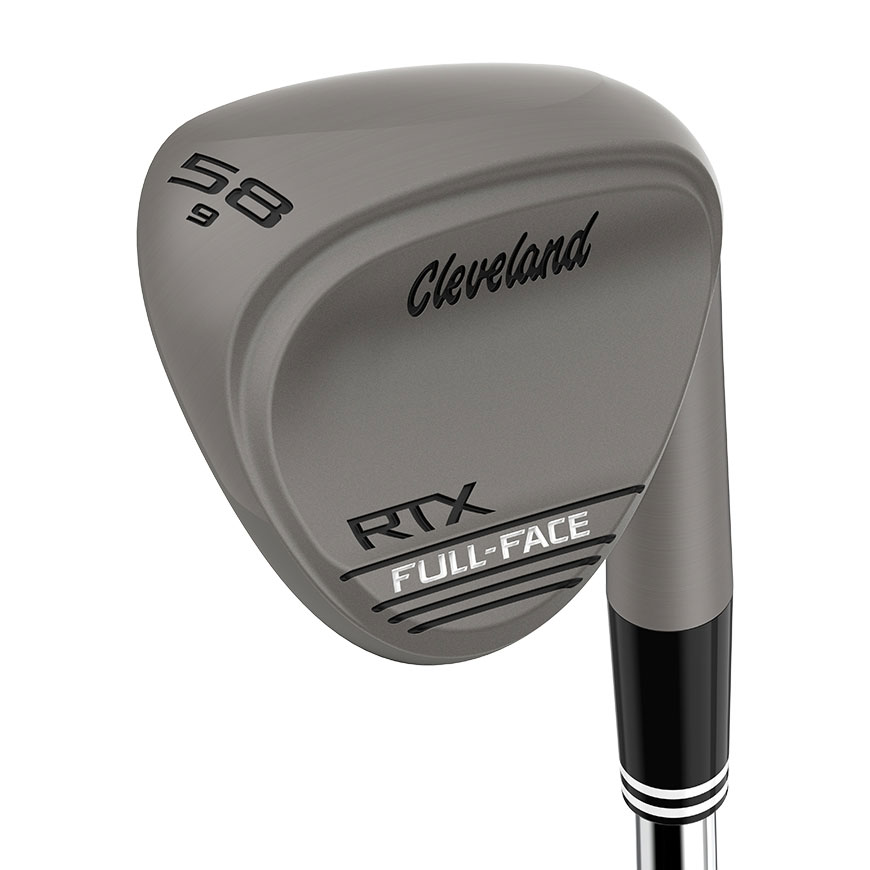 RTX Full-Face Tour Rack Wedge
4.8 out of 5 Customer Rating
RTX Full-Face Tour Rack allows you to customize the sole of your RTX Full-Face.The full-length UltiZip Grooves and advanced High-Toe Profile put swing thoughts in their place. Plus, its engine is made of our revolutionary ZipCore. So, go ahead. Open that face and go for the lob shot. You've got what it takes.
WINNER
2023 Golf Digest
Hot List Gold Medal
MAKE IT YOURS
Add Personalization
to Match Your Style
TOUR-CRAFTED GRINDS
Purpose-Built to
Your Short Game
Personalize
Custom Characters Text:
None
Custom Characters Color:
None
|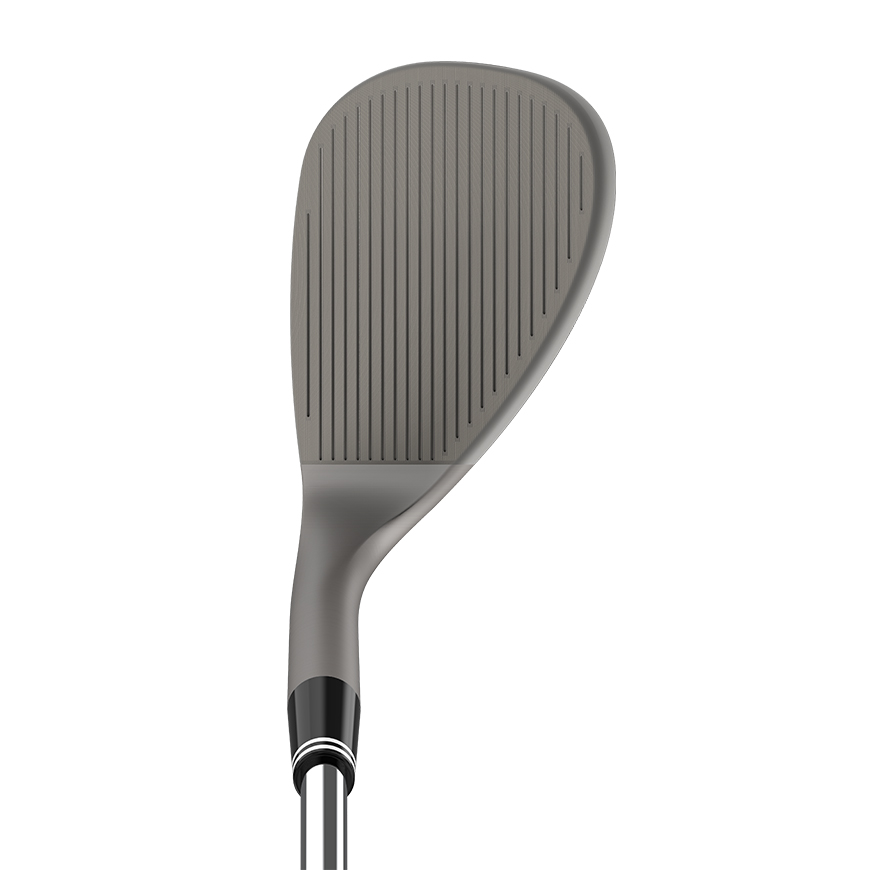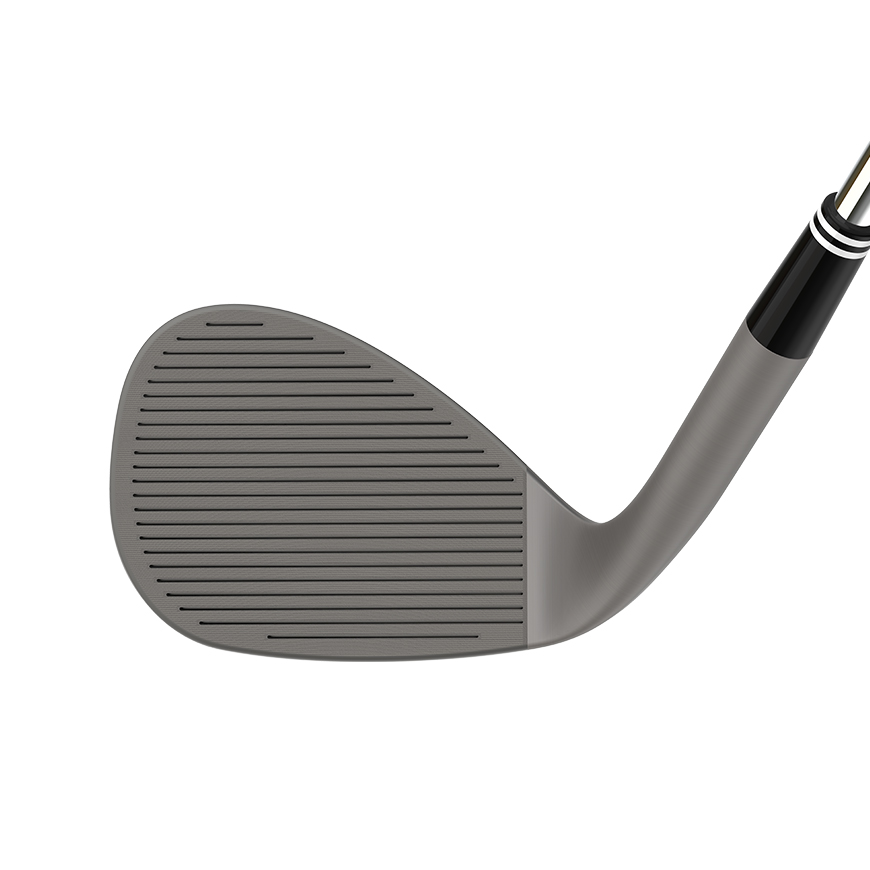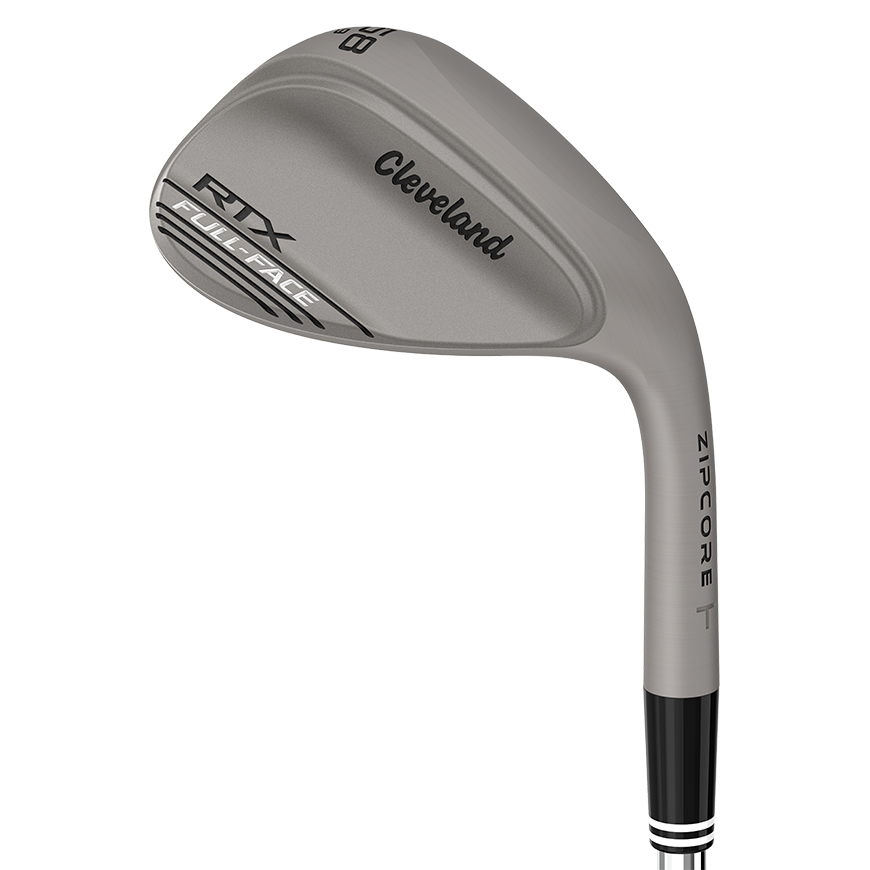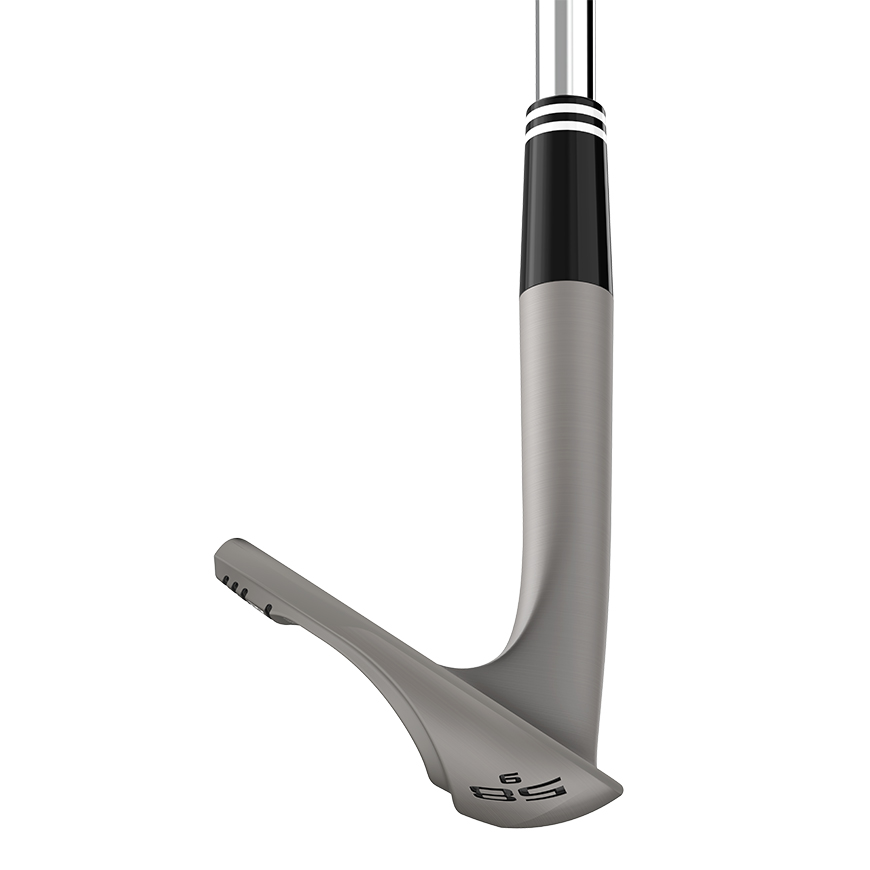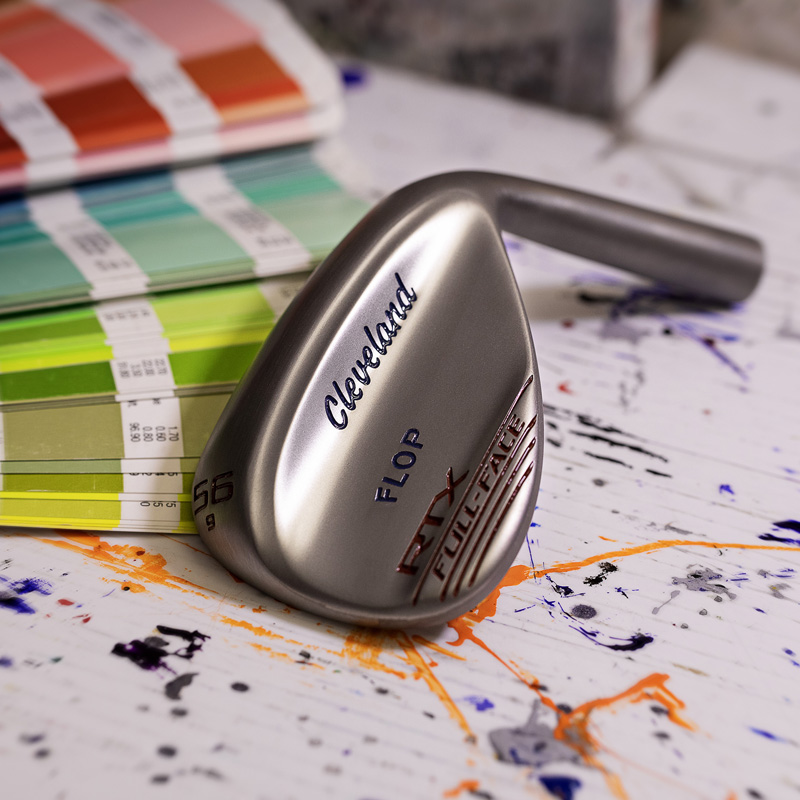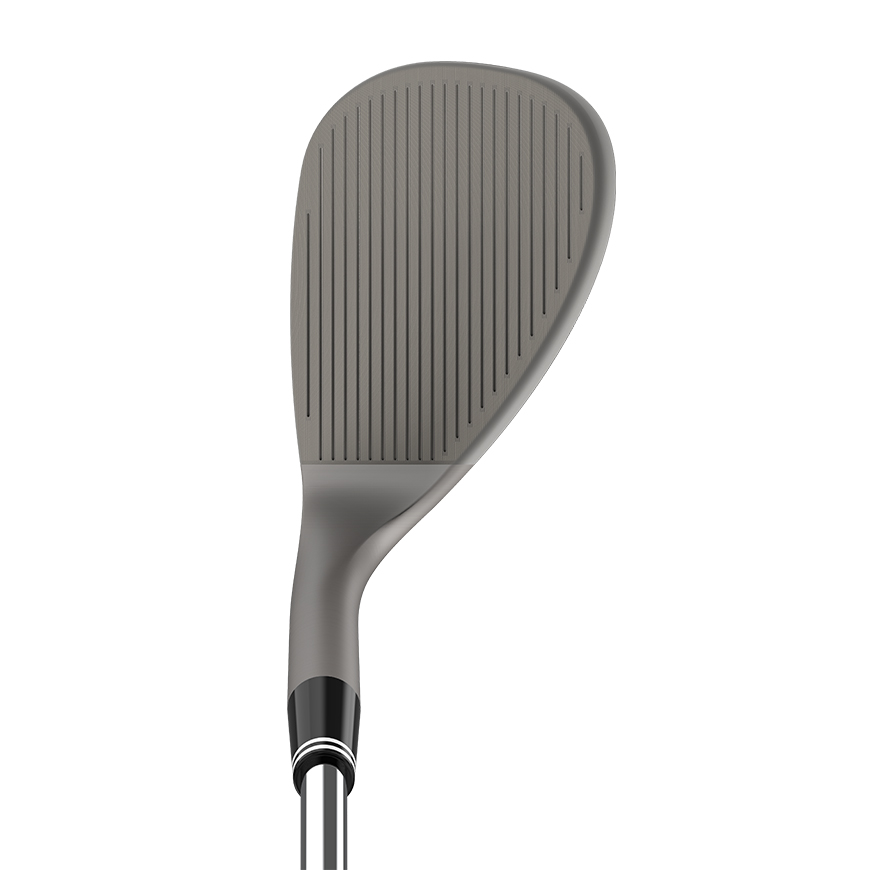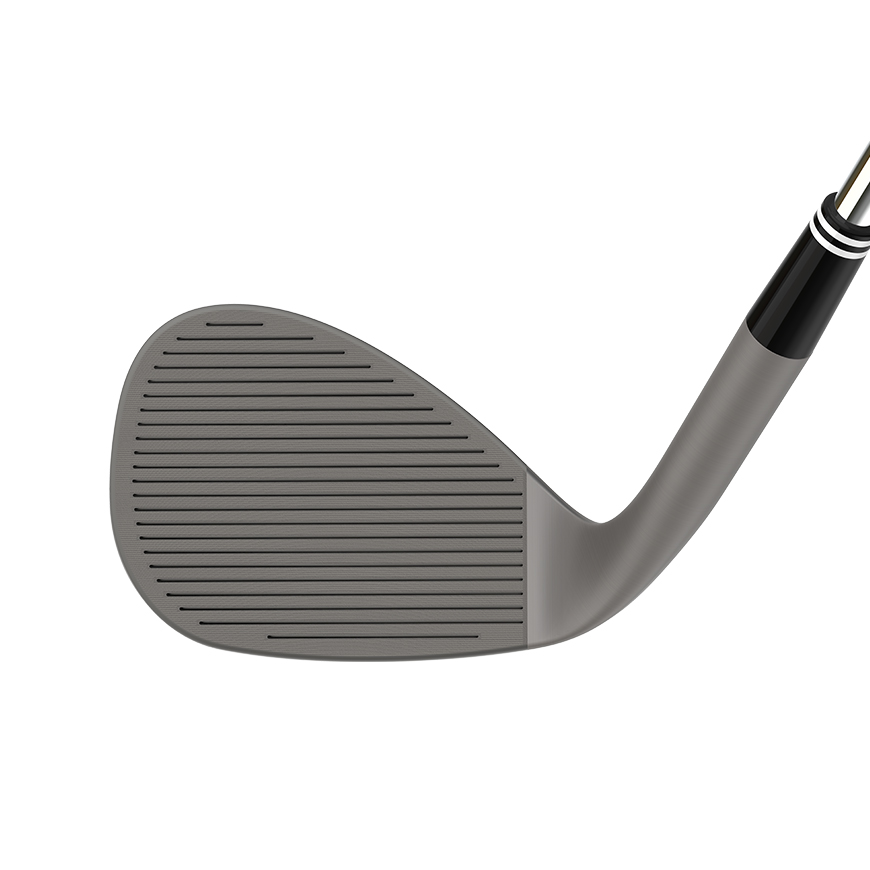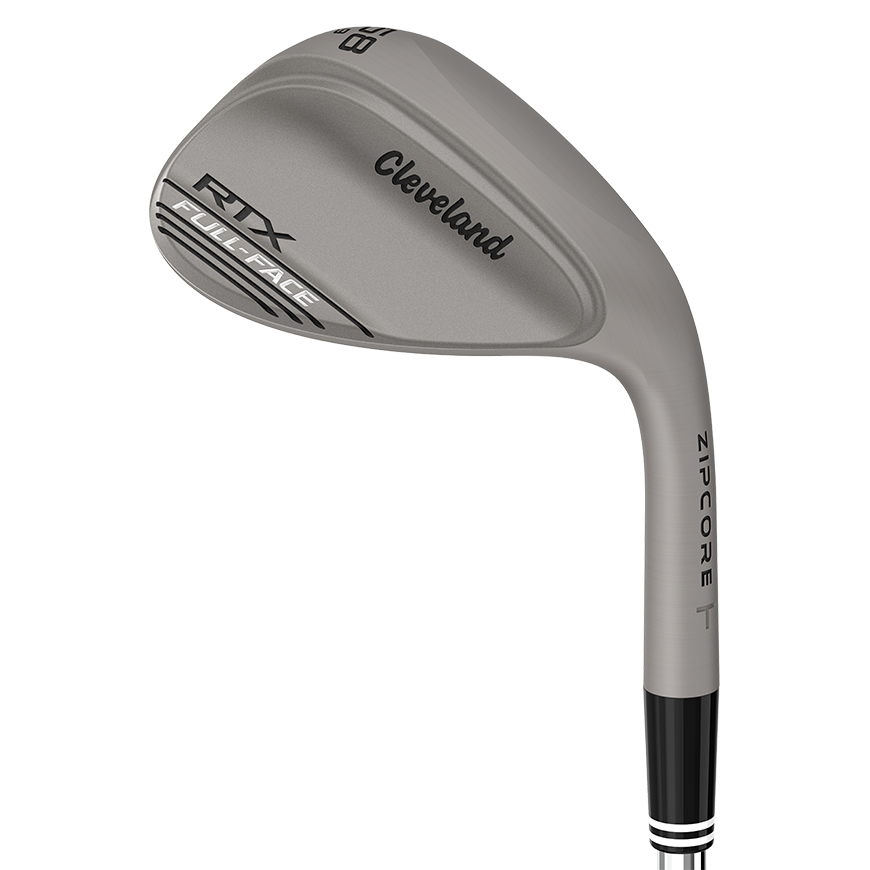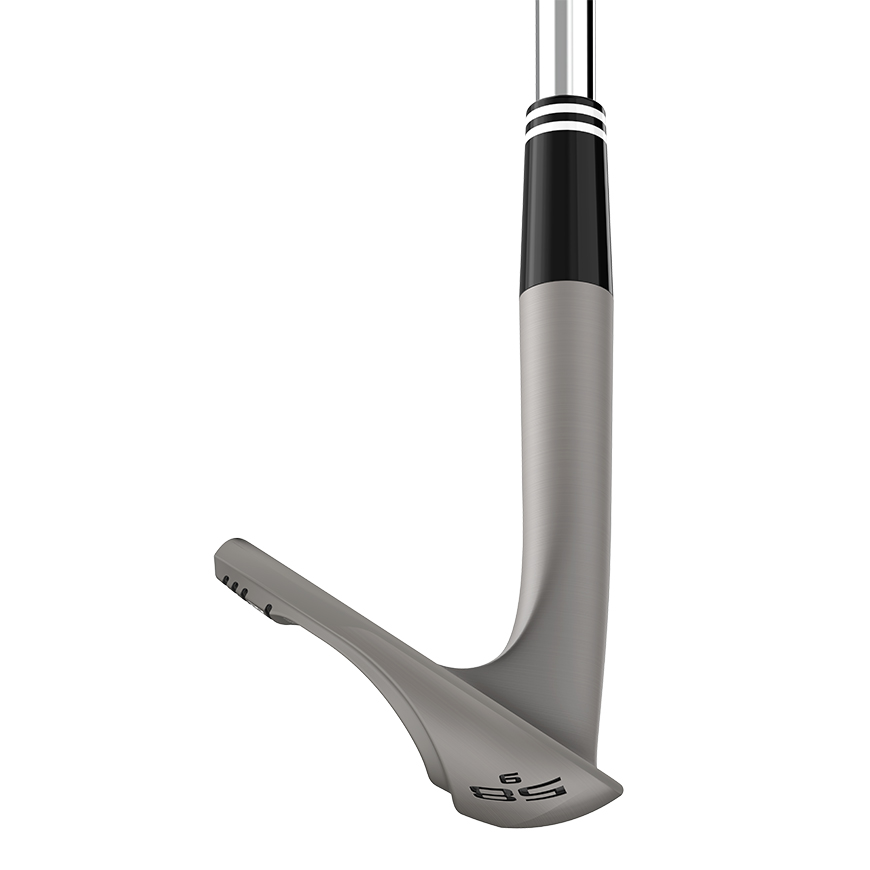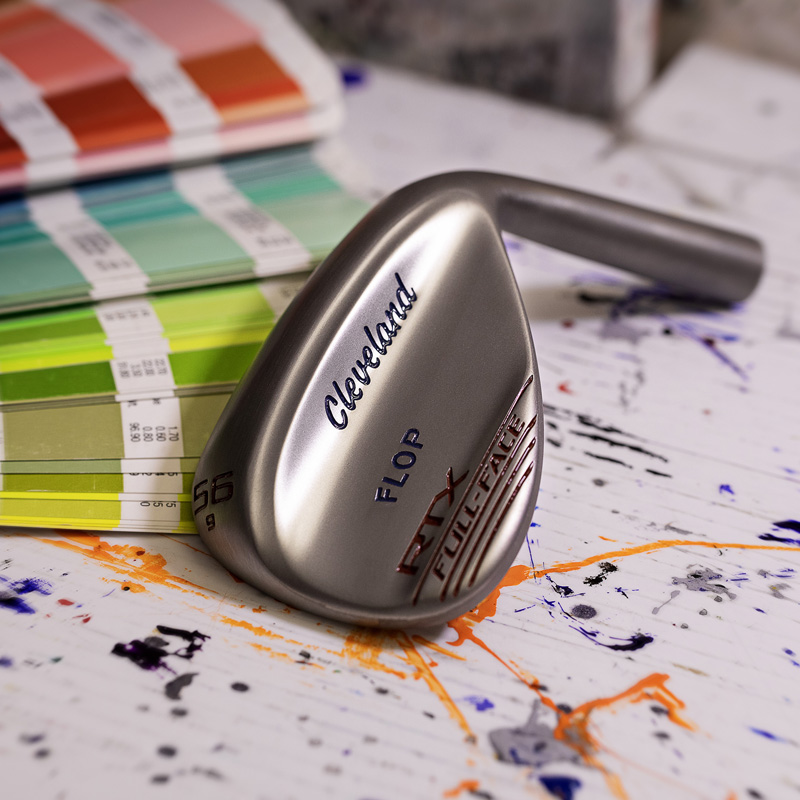 Overview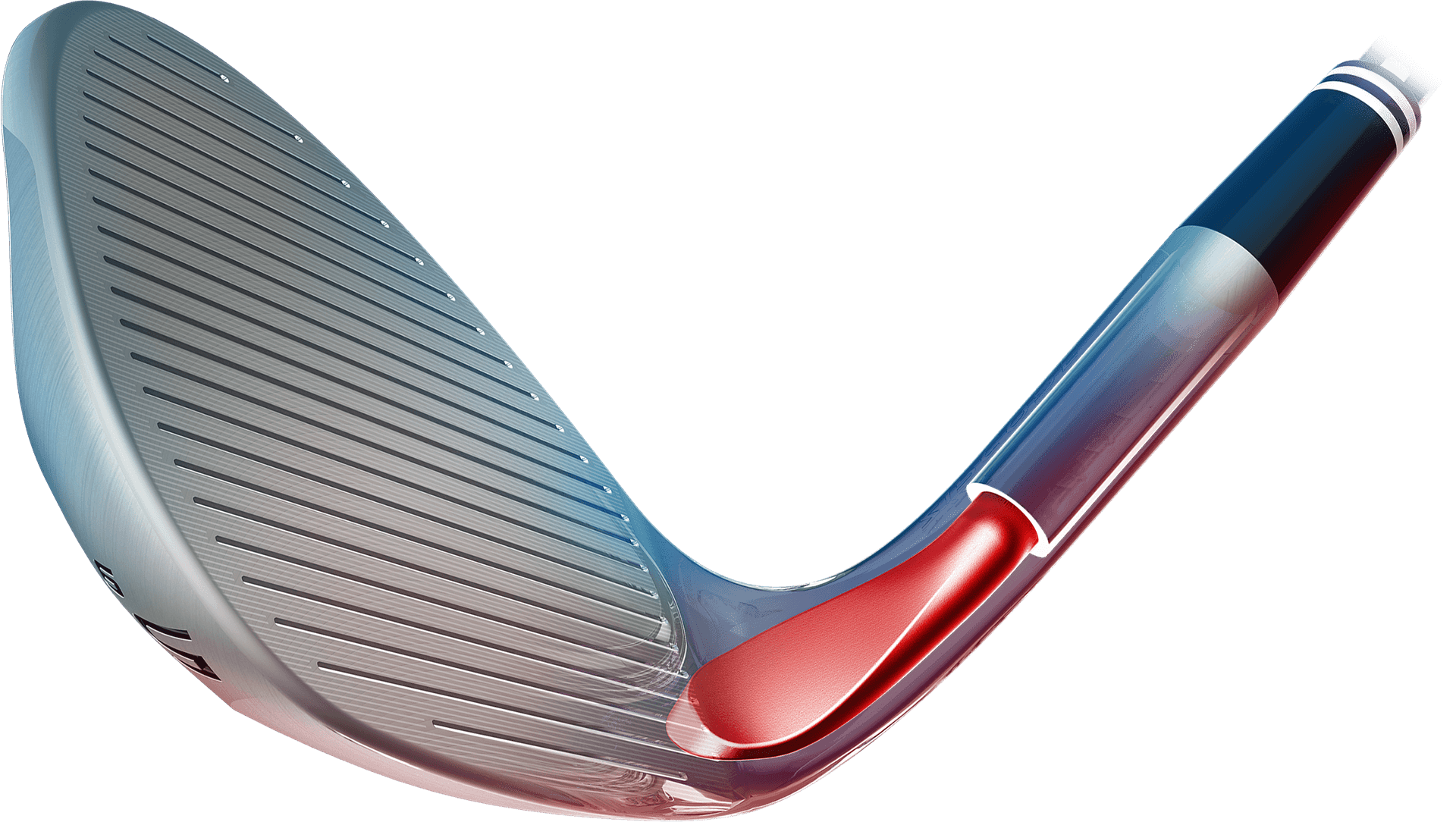 INTRODUCING

When there's a bunker between you and your bragging rights, you'd better be certain the club in your hands can deliver the flawless flop you're about to pull off. Because it'll take more than just a wedge, you need a flop shot machine. That's where RTX Full-Face comes into play.
STANDARD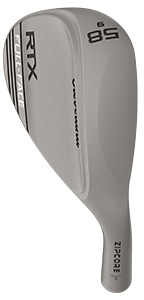 PERFORMANCE:
Same as Stock Sole Chosen
RELIEF EDGE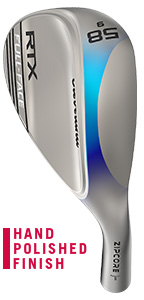 PERFORMANCE:
Lower Leading Edge when Opening the Face
Tour Crafted Leading Edge Grinds
STANDARD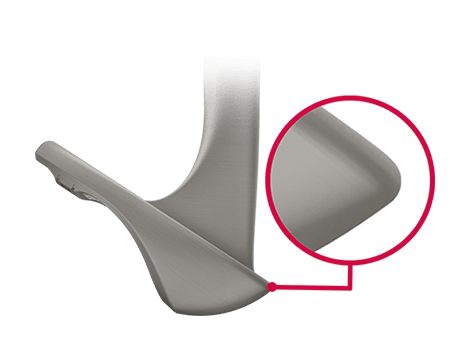 CONDITIONS:
Med - Firm
SWING TYPE:
Neutral Angle of Attack
ROUNDED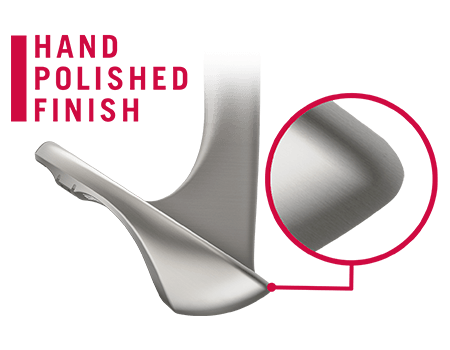 CONDITIONS:
Med - Soft
SWING TYPE:
Steep Angle of Attack
SHARPENED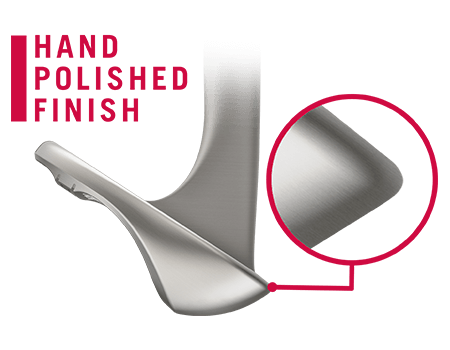 CONDITIONS:
Very Firm
SWING TYPE:
Shallow Angle of Attack
Hand Polished Finish
This premium finish is included for free on every wedge with a custom sole or leading edge grind. Both the Standard and Hand Polished Finish are raw, unplated 8620 carbon steel. They will patina and rust after a few weeks of regular use, giving you that signature tour look.
Technology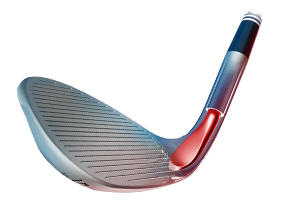 FULL-FACE GROOVES
We went to work developing the ideal hosel-to-toe groove pattern. The resulting clubface has our UltiZip grooves covering every last millimeter. That means you can hit it off the toe whenever you need to and still get great spin.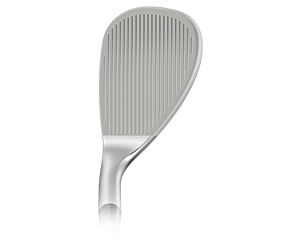 HIGH-TOE PROFILE
To enhance your ability to convert on open-faced shots, we threw out design after design until we landed on the optimal High-Toe shape. This lets you open up the face with confidence, knowing that you're covered when the club slides under the ball. We took care to not add too much to the toe so that we could maintain that classic look at address.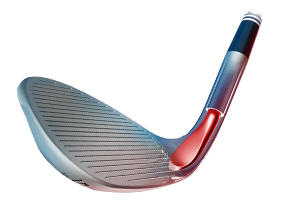 ZIPCORE
ZipCore is a unique, low-density core that sits at the heart of RTX. ZipCore shifts the center of gravity while raising MOI, adding spin, enhancing control, and boosting consistency on all your shots.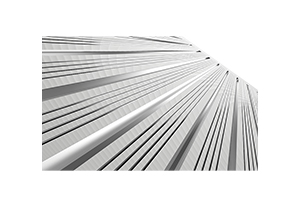 ULTIZIP GROOVES
These new grooves are sharper, deeper, and narrower. They bite harder, channel more debris, and they're closer together for more groove contact on every shot.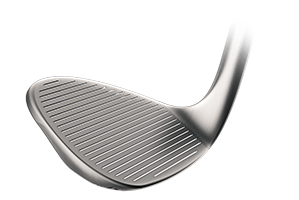 NEW HEAT TREATMENT
A measured, timed blast of heat does wonders for a wedge's durability. Ultimately, this new heat treatment process ensures that you'll love your RTX ZipCore round after round.
Specs
| LOFT | GRIND | BOUNCE ANGLE | LIE ANGLE | LENGTH | SW | HAND |
| --- | --- | --- | --- | --- | --- | --- |
| 56° | C-SHAPED | 9° | 64° | 35 3/16" | D5 | RH |
| 58° | C-SHAPED | 9° | 64° | 34 7/8" | D5 | RH |
| 60° | C-SHAPED | 9° | 64° | 34 7/8" | D5 | RH |
| 64° | C-SHAPED | 9° | 64° | 34 7/8" | D5 | RH |
TRUE TEMPER DYNAMIC GOLD SPINNER TOUR ISSUE

Dynamic Gold Spinner gives you everything you love in a Tour Issue wedge shaft - stability, control, and consistency - but it's built to help you generate extra spin and tour-level stopping power. It's an entirely new offering from True Temper with a similar profile to Dynamic Gold S200 but specifically designed for wedge play.
| FLEX | WEIGHT (g) | BUTT DIAMETER | SPIN |
| --- | --- | --- | --- |
| WEDGE | 128 g | 600" | MID-HIGH |
LAMKIN CROSSLINE 360

Tour-proven performance, classic looks, and excellent feel. Crossline features a highly-durable compound and best-in-class torsion control for improved shot-making and confidence.
| SIZE | CORE | WEIGHT |
| --- | --- | --- |
| Standard | .580" | 50g |
LAMKIN CROSSLINE 360 BLACK GRIP

Distinctive, all-black color option for one of Lamkin's most popular grips ever. Firmer grip material limits torsion at shot impact for greater confidence and excellent consistency. Made with Lamkin's proprietary compound engineered for exceptional durability.
| INSIDE DIAMETER | WEIGHT (g) |
| --- | --- |
| 58 ROUND | 50 g |
RTX Full-Face Tour Rack Wedge
Loft
Please select an available option
56 (MID)
58 (MID)
60 (MID)
64 (MID)
Shaft Flex
Standard – Dynamic Gold Tour Issue
Hand
Please select an available option
Loft / Bounce
Please select an available option
lie
Please select an available option
Loft Adjustment
Please select an available option
Shaft Type
Please select an available option
Shaft Model
Please select an available option
STEEL - Standard - True Temper - Dynamic Gold Spinner Tour Issue - Low Launch

STEEL - KBS - Tour Lite - High Launch

STEEL - KBS - Tour - Mid Launch

STEEL - KBS - C-Taper - Low Launch

STEEL - KBS - C-Taper Lite - Mid-High Launch

STEEL - KBS - S Taper Chrome - Mid Launch

STEEL - KBS - Hi Rev 2.0 - Mid Launch

STEEL - KBS - 610 - Low-Mid Launch (+$15)

STEEL - KBS - Tour Custom White - Mid Launch (+$15)

STEEL - KBS - Tour Custom Black - Mid Launch (+$15)

STEEL - KBS-EXOTIC - Tour-V - Mid Launch (+$15 ~3wk Lead Time)

STEEL - KBS-EXOTIC - Tour FLT - Mid Launch (+$15 ~3wk Lead Time)

STEEL - Nippon - NS Pro Modus3 Wedge - Mid Launch

STEEL - Nippon-EXOTIC - NS Pro Modus3 125 - Low Launch (+$20 ~3wk Lead Time)

STEEL - Nippon-EXOTIC - NS Pro Modus3 130 - Mid Launch (+$20 ~3wk Lead Time)

STEEL - Nippon-EXOTIC - NS Pro 950 GH - Mid Launch (+$20 ~3wk Lead Time)

STEEL - Project X - Project X - Low Launch (+$30)

STEEL - Project X - LZ - Mid Launch (+$30)

STEEL - True Temper - Dynamic Gold - Low Launch

STEEL - True Temper - Dynamic Gold Tour Issue - Low Launch

STEEL - True Temper - Dynamic Gold 115 Spinner Tour Issue - Mid Launch

STEEL - True Temper - Dynamic Gold - Wedge - Low Launch

STEEL - True Temper - Dynamic Gold 115 - Mid-Low Launch
Unavailable as configured

STEEL - True Temper-EXOTIC - Dynamic Gold 105 - Mid Launch (+$10 ~3wk Lead Time)

STEEL - True Temper-EXOTIC - Dynamic Gold 120 - Low Launch (+$10 ~3wk Lead Time)

STEEL - True Temper - Dynamic Gold Tour Issue Onyx - Low Launch (+$15)
Unavailable as configured

GRAPHITE - Aerotech - SteelFiber i95cw - Low-Mid Launch (+$40 to Gr Price)

GRAPHITE - Aerotech - SteelFiber i70cw - Mid-High Launch (+$40 to Gr Price)

GRAPHITE - Aerotech-EXOTIC - SteelFiber i80cw - Mid Launch (+$40 to Gr Price ~3wk Lead Time)

GRAPHITE - Aerotech-EXOTIC - SteelFiber fc90cw - Progressive Launch (+$40 to Gr Price ~3wk Lead Time)

GRAPHITE - Aerotech-EXOTIC - SteelFiber i110cw - Low-Mid Launch (+$40 to Gr Price ~3wk Lead Time)

GRAPHITE - KBS-EXOTIC - TGI 100 - Mid Launch (+$25 to Gr Price ~3wk Lead Time)

GRAPHITE - KBS-EXOTIC - TGI 95 - Mid Launch (+$25 to Gr Price ~3wk Lead Time)

GRAPHITE - KBS-EXOTIC - TGI 90 - Mid Launch (+$25 to Gr Price ~3wk Lead Time)

GRAPHITE - Project X - Catalyst 80 Spinner - High Launch (+$10 to Gr Price)

GRAPHITE - UST - Recoil 760 SWP Black - Mid-High Launch (+$20 to Gr Price)
Unavailable as configured

Shaft Flex
Please select an available option
X-Stiff - 95g EXOTIC ~3Wk Lead Time
Regular - 95g EXOTIC ~3Wk Lead Time
Stiff - 70g EXOTIC ~3Wk Lead Time
Stiff - 120g EXOTIC ~3Wk Lead Time
X-Stiff - 115g EXOTIC ~3Wk Lead Time
X-Stiff (7.0) - 130g EXOTIC ~3Wk Lead Time
Regular (5.5) - 115g EXOTIC ~3Wk Lead Time
Senior (5.0) - 110g EXOTIC ~3Wk Lead Time
X-Stiff (F5) - 91g EXOTIC ~3Wk Lead Time
X-Stiff (F5) - 90g EXOTIC ~3Wk Lead Time
Shaft Length
Please select an available option
Grip Model
Please select an available option
Standard - Lamkin - Crossline 360 - .580 [50g]

Golf Pride - Tour Velvet 360 - .580 [52g]

Golf Pride - Tour Velvet 360 GP Silver - .580 [52g]

Golf Pride - Tour Velvet - .580 [52g]

Golf Pride - Tour Velvet - .600 [53g] - Midsize

Golf Pride - Tour Velvet - .600 [61g] - Jumbo

Golf Pride - MCC Black - .600 [46.5g]

Golf Pride - MCC Black - .600 [59g] - Midsize

Golf Pride - MCC Red - .600 [46.5g]

Golf Pride - MCC Red - .600 [59g] - Midsize

Golf Pride - MCC Blue - .600 [46.5g]

Golf Pride - MCC Blue - .600 [59g] - Midsize

Golf Pride - MCC White - .600 [46.5g]

Golf Pride - MCC White - .600 [59g] - Midsize

Golf Pride - Tour Velvet Plus4 - .600 [52g] (+$10)

Golf Pride - Tour Velvet Plus4 - .600 [65.5g] - Midsize (+$10)

Golf Pride - Tour Velvet ALIGN - .600 Reminder [51.5g] (+$10)

Golf Pride - Tour Velvet ALIGN - .600 Reminder [64g] - Midsize (+$10)

Golf Pride - Tour Velvet Full Cord - .580 [50.5g] (+$10)

Golf Pride - MCC Plus4 Align - .600 Reminder [53g] (+$10)

Golf Pride - MCC Plus4 Align - .600 Reminder [67g] - Midsize (+$10)

Golf Pride - MCC Plus4 Gray - .600 [52g] (+$10)

Golf Pride - MCC Plus4 Gray - .600 [66g] - Midsize (+$10)

Golf Pride - MCC Plus4 Gray - .600 [82g] - Jumbo (+$10)

Golf Pride - MCC Plus4 Blue - .600 [52g] (+$10)

Golf Pride - MCC Plus4 Blue - .600 [66g] - Midsize (+$10)

Golf Pride - MCC Plus4 Red - .600 [52g] (+$10)

Golf Pride - MCC ALIGN - .600 Reminder [51g] (+$10)

Golf Pride - MCC ALIGN - .600 Reminder [62g] - Midsize (+$10)

Golf Pride - Z Cord - .600 [50.5g] (+$10)

Golf Pride - Z Cord - .600 [57.5g] - Midsize (+$10)

Golf Pride - CP2 Wrap - .600 [51.5g] (+$10)

Golf Pride - CP2 Wrap - .600 [64g] - Midsize (+$10)

Golf Pride - CP2 Wrap - .600 [81g] - Jumbo (+$10)

Golf Pride - 2G Tour Wrap Black - .600 [48g] (+$10)

Golf Pride - 2G Tour Wrap Black - .600 [58g] - Midsize (+$10)

Golf Pride - 2G Tour Wrap Red - .600 [48g] (+$10)

Golf Pride - 2G Tour Wrap White - .600 [48g] (+$10)

Golf Pride - CP2 Pro - .600 [51.5g] (+$10)

Golf Pride - CP2 Pro - .600 [64g] - Midsize (+$10)

Golf Pride - Tour Wrap Microsuede - .580 [43g] - Undersize (+$10)

JumboMax - Ultralite Medium - .600 [47g] - Jumbo (+$15)

JumboMax - Ultralite XL - .600 [50g] - Jumbo (+$15)

Lamkin - Crossline - .580 [50g]

Lamkin - Crossline - .580 [62g] - Midsize

Lamkin - SONAR+ - .600 [53g] (+$10)

Lamkin - SONAR+ - .600 [57g] - Midsize (+$10)

Lamkin - ST+2 Hyb - .600 [53g] (+$10)

Lamkin - ST+2 Hyb - .600 [58g] - Midsize (+$10)

Lamkin - Utx-Solid Gray - .580 [52g] (+$10)

Lamkin - Utx-Solid Gray - .580 [63g] - Midsize (+$10)

Winn - Dri-Tac - .600 [48g]

Winn - Dri-Tac - .600 [49g] - Midsize

Winn - Dri-Tac Ladies - .590 [35g] - Undersize

Winn - Dri-Tac Lite - .600 [22g]

Winn - Dri-Tac Lite - .600 [23g] - Midsize